Outdoor Insect and Disinfectant Backpack Foggers
Spray disinfectants or insecticides through stadiums, worksites, and other large outdoor areas—these foggers treat an acre of space in 30 minutes with only one refill. A powerful fan propels mist forward up to 40 ft. or upward up to 25 ft. With a built-in fuel tank, they don't require an outlet like electric foggers or the effort of hand-pump foggers. Set your preferred spray pattern by adjusting the flow rate and droplet size; spray with greater flow and droplet size for more concentration, or spray with less flow and smaller droplets to cover a broader area. Keep flow and droplet size settings in place with the power lock. The throttle grip is adjustable for comfort. Not for use with oil-based liquids and other flammable products.
Insecticides cannot be sold outside of the United States due to product registration requirements.
Backpack Fogger
Approximate
Coverage
Container


Size,




gal.

Flow


Rate,


gpm
Droplet


Size,


microns

Lg.

Ht.

Wd.

Container
Material
Material

Lg.

Nozzle
Material
Fuel Tank


Capacity,




qt.

Features
Each
35,475 sq. ft.
3.7
0.2-0.5
20-50
21"
26"
17"
Polyethylene Plastic
PVC Plastic
48"
Polyphenylene Plastic
1.1
Adjustable Padded Shoulder Straps;Throttle Control
0000000
0000000
Multipurpose Cleaners for Steam Cleaners and Pressure Washers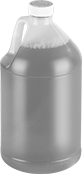 These low-foaming cleaners won't damage your steam cleaner or pressure washer. Use them on hard, nonporous surfaces.
Multipurpose and disinfectant cleaners remove dirt and kill up to 99.9% of bacteria and viruses. Their no-rinse formula reduces cleaning time. NSF and EPA registered, they're safe for disinfecting surfaces that will come in contact with food.
Cleaners that cannot be sold outside of the United States are restricted due to product registration requirements.
Type

Size,




gal.

Composition
Harshness
For
Use
On
For
Removing
Features
Specifications
Met
Cannot
Be
Sold To
Each

Multipurpose and Disinfectant

Liquid

Jug
5
Water Based
Mild
Aluminum, Asphalt, Brass, Ceramic, Chrome, Concrete, Copper, Fiberglass, Galvanized Steel, Glass, Iron, Linoleum, Painted Surfaces, Plastic, Porcelain, Rubber, Stainless Steel, Steel, Stone, Waxed Floors
Dirt, Bacteria, Viruses
Low Foaming, No-Rinse Formula
NSF Registered D2

Outside United States
0000000
0000000

Kill bacteria, viruses, and fungi. Some of these cleaners also remove dirt. They cannot be sold to the regions listed because they exceed local regulatory limits on VOCs (volatile organic compounds).
Tablet cleaners dissolve in water to create a neutral-pH solution for use on hard surfaces or in foggers to disinfect large areas. They're less irritating on skin than bleach, give off less of an odor, and won't damage equipment or finishes. Their tablet form makes it easy to mix up a solution, with no risk of spilling hazardous chemicals.
Type

No.

of
Tablets
Composition
Harshness
For Use On
For
Removing
Cannot Be
Sold To
Each

Tablet

Jar
100
Water Based
Mild
Aluminum, Ceramic, Plastic, Stainless Steel, Vinyl
Bacteria, Dirt, Viruses
Outside United States, PR
0000000
0000000