Hydraulic Forklift Hand Trucks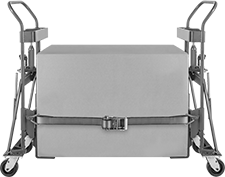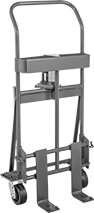 Use these hand trucks in pairs to lift large, bulky, and long loads. A hand-operated hydraulic lift raises and lowers the load. Each hand truck has adjustable-width forks that go under the load. Steel cleats on the forks grip the load and straps with a ratchet buckle attach to each side of the hand truck to stabilize and secure the load.
Wheels roll best on smooth floors. Steel wheels are more durable than phenolic wheels.
Cap.

per


Pair,

lbs.

Lg.

Ht.

Outside Spread

Wd.

Lg.

Max.


Lift
Handle


Ht.

Lg.,




ft.

Wd.

Wheel
Configuration

Dia.

Type
Pair

Steel Body

Phenolic Plastic Wheels

2,000
5"

3/4

"
7

1/4

"-17

1/2

"
22"
12

1/2

"
5

1/8

"
47

1/2

"
12
2"
Two Swivel Casters
5"
Solid
0000000
000000000
4,000
6"
1

1/8

"
5"-19

1/2

"
23"
16

1/2

"
12"
44"
12
2"
Two Swivel Casters
6"
Solid
0000000
00000000
6,000
6"
1

1/8

"
6"-19

1/2

"
23"
16

3/4

"
6"
42

1/2

"
12
2"
Two Swivel Casters
6"
Solid
0000000
00000000

Steel Wheels

10,000
6"
1

1/8

"
9

1/4

"-19

1/2

"
24"
18"
6"
45

1/2

"
12
2"
Two Swivel Casters
8"
Solid
0000000
00000000