Tilt Pedal

A

B

C

D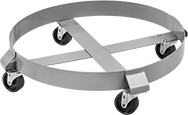 E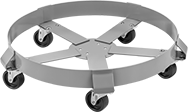 F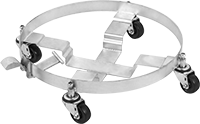 G
The casters on these dollies are mounted outside the platform for increased stability.
Style B have adjustable set screws to securely hold drums of different sizes.
Style D have a solid platform for additional support.
Style F have five swivel casters for even more stability.
Style G have a tilt pedal that locks the drum at a 10° angle for controlled emptying.
Steel dollies are welded for added durability.
Polypropylene dollies are lightweight and corrosion resistant.
Open platforms don't pool liquid.
Permanent casters are more durable than removable casters.
Use dollies with polypropylene wheels on smooth surfaces. Nylon wheels are durable, nonmarking, and roll on smooth surfaces. Dollies with rubber or polyurethane wheels absorb shock to roll over smooth or rough surfaces. Dollies with iron wheels are rugged, but noisy and can damage floors. They work best on smooth surfaces.
Style
For
Container


Cap.,

gal.

O'all




Cap.,




lbs.

ID

O'all




Ht.

Platform


Ht.

Lip


Ht.

Color
Gauge
Wheel
Configuration
Caster
Mount
Type

Dia.

Material
Type
Each
Each

Polypropylene Plastic

A
6
75
11"
3

11/16

"
2

15/16

"

3/4

"
Off-White
__
Five Swivel Casters
Replaceable
1

1/2

"
Nylon Plastic
Solid
00000000
000000
000000
00
B
5
300
11"
7

1/8

"
3"
4

1/8

"
Black
__
Five Swivel Casters
Replaceable
2"
Polyurethane
Solid
0000000
00000
000000
00

Painted Steel

C
5
700
12

1/4

"
6

3/16

"
3

9/16

"
2

1/2

"
Orange
11
Four Swivel Casters
Permanent
2

1/2

"
Polypropylene Plastic
Solid
0000000
00000
000000
00
D
5
700
12

1/4

"
6

3/16

"
3

9/16

"
2

1/2

"
Orange
11
Four Swivel Casters
Permanent
2

1/2

"
Polypropylene Plastic
Solid
0000000
000000
000000
00
E
55
900
24"
5

3/4

"
4"
2"
Orange
12
Four Swivel Casters
Replaceable
3"
Rubber
Solid
0000000
000000
000000
00
E
30
1,000
19

1/4

"
5

3/4

"
3

7/8

"
2

1/2

"
Gray
12
Four Swivel Casters
Replaceable
3"
Polypropylene Plastic
Solid
0000000
000000
0000000
000000
E
55
1,000
23"
6

1/2

"
3

3/4

"
2

1/2

"
Gray
12
Four Swivel Casters
Replaceable
3"
Polypropylene Plastic
Solid
0000000
000000
000000
00
E
55
1,400
23"
6

1/2

"
4"
2

1/2

"
Gray
12
Four Swivel Casters
Replaceable
3"
Polypropylene Plastic
Solid
0000000
000000
000000
00
F
55
1,250
23"
6

1/2

"
3

7/8

"
2

1/2

"
Gray
12
Five Swivel Casters
Replaceable
3"
Polypropylene Plastic
Solid
0000000
000000
0000000
00000
F
55
1,400
23"
6

1/2

"
3

7/8

"
2

1/2

"
Gray
12
Five Swivel Casters
Replaceable
3"
Iron
Solid
0000000
000000
0000000
00000
G
55
900
23

1/2

"
6

1/4

"
4

1/4

"
2"
__
11
Four Swivel Casters
Replaceable
3"
Rubber
Solid
0000000
000000
0000000
00000
G
55
1,200
23

1/2

"
6"
4"
2"
__
11
Four Swivel Casters
Replaceable
3"
Iron
Solid
0000000
000000
0000000
00000