Steel Hand Trucks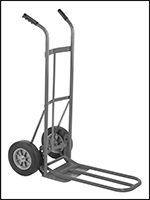 Optional Load Plate Extension for
Style A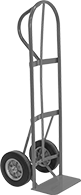 (A)
With
Center-Loop
Handle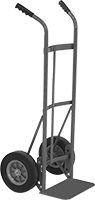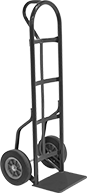 (B)
With
Center-Loop
Handle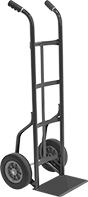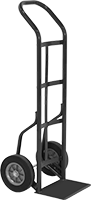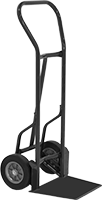 C

D
All-welded steel construction makes these trucks strong and durable. Slide the load plate under flat-bottom loads then tilt back on the wheels to move them. Frames are curved to better support round items.
Style C trucks are also known as shovel-nose trucks. They have a tapered load plate that slides under a load easier than straight load plates.
Style D trucks have a taller frame for better leverage when lifting a load.
Rubber tread-on-core wheels have a hard core for strength surrounded by a shock- and sound-absorbing tread for a cushioned ride on all surfaces. Flat-free rubber wheels won't go flat, and provide a cushioned ride. Pneumatic rubber wheels provide a cushioned ride over the roughest surfaces, such as gravel. Steel wheels are rugged but noisy and can damage floors. They roll best on smooth surfaces.
Stair glides make it easier to move loads up and down stairs and over curbs.
Optional load plate extension adds to the depth of the load plate to hold more material. Compatible with Style A with dual handle and Style A with loop handle.
O'all




Cap.,




lbs.

Style
Color

Dia.

Wd.

Dp.

Handle


Ht.

Dia.

Material
Type
Features
Each
Each
800
Curved
Red
1"
14"
8"
50

1/2

"
10"
Rubber
Flat Free
__
000000
0000000
000000
00
800
Curved
Red
1"
14"
8"
50

1/2

"
10"
Rubber
Pneumatic
__
000000
000000
000000
00
1,000
Curved
Gray
1"
24"
12"
60"
15"
Rubber
Pneumatic
__
0000000
000000
000000
00

Dual Handle

800
Curved
Red
1"
14"
8"
45

1/2

"
10"
Rubber
Flat Free
__
0000000
000000
000000
00
800
Curved
Red
1"
14"
8"
45

1/2

"
10"
Rubber
Pneumatic
__
0000000
000000
000000
00

Loop Handle

600
Curved
Red
1"
14"
8"
46

1/2

"
8"
Rubber
Flat Free
__
0000000
00000
000000
00
800
Curved
Red
1"
14"
8"
46

1/2

"
10"
Rubber
Flat Free
__
0000000
000000
000000
00
800
Curved
Red
1"
14"
8"
46

1/2

"
10"
Rubber
Pneumatic
__
0000000
00000
000000
00
800
Curved
Green
1

1/4

"
14"
8"
50"
10"
Rubber
Tread on Core
Stair Glides
0000000
000000
0000000
000000
800
Curved
Green
1

1/4

"
14"
8"
50"
10"
Rubber
Pneumatic
Stair Glides
0000000
000000
0000000
00000

Dual Handle

800
Curved
Green
1

1/4

"
14"
8"
50"
10"
Rubber
Tread on Core
Stair Glides
0000000
000000
0000000
00000
800
Curved
Green
1

1/4

"
14"
8"
50"
10"
Rubber
Pneumatic
Stair Glides
0000000
000000
0000000
00000

Loop Handle

800
Curved
Green
1

1/4

"
14"
8"
50"
10"
Rubber
Tread on Core
Stair Glides
000000
000000
0000000
00000
800
Curved
Green
1

1/4

"
14"
8"
50"
10"
Rubber
Pneumatic
Stair Glides
000000
000000
0000000
00000

Loop Handle

800
Curved
Green
1

1/4

"
17

1/2

"-14"
13"
51"
10"
Rubber
Tread on Core
Stair Glides
000000
000000
0000000
00000
800
Curved
Green
1

1/4

"
17

1/2

"-14"
13"
51"
10"
Rubber
Pneumatic
Stair Glides
000000
000000
0000000
00000
1,000
Curved
Orange
1

1/4

"
17"-11"
14"
50"
8"
Rubber
Tread on Core
Stair Glides
0000000
000000
00000000
00000
1,500
Curved
Orange
1

1/4

"
17"-11"
14"
50"
8"
Steel
Solid
Stair Glides
0000000
000000
00000000
00000
600
Curved
Red
1"
14"
8"
56"
8"
Rubber
Flat Free
Stair Glides
0000000
000000
000000
00
| | | | |
| --- | --- | --- | --- |
| Optional Load Plate Extension for Style A with Loop or Dual Handles (200 lbs. Cap., 26" Dp.) | 0000000 | Each | 000000 |