Steel Rail Trucks
Made of steel for durability, these trucks have removable rails that allow you to configure them to accommodate a variety of long, flat loads. A flush platform enables easy loading from the end of the truck.
Style B have rails at three different heights for greater versatility.
Style D have a reinforced platform and cross bars for added durability.
Style E have slot openings on the platform to accept extra rails.
Perforated and open platforms prevent excess material from building up on the cart.
Vinyl-coated platforms and contact surfaces are nonskid and nonmarring.
Trucks with two swivel and two rigid casters have better steering control. Trucks with four swivel casters are easier to maneuver.
Wheel brakes keep the truck stationary during loading and unloading.
Trucks with polypropylene or phenolic wheels roll best on smooth surfaces. Trucks with polyurethane wheels absorb shock to roll over rough floors and areas with debris.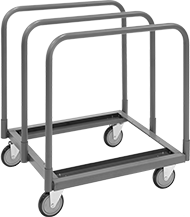 A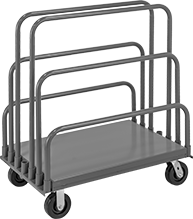 B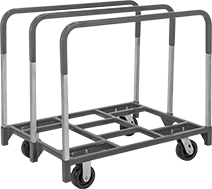 C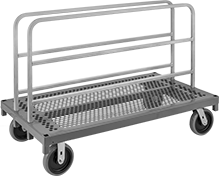 D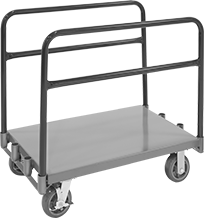 E
Style

O'all




Cap.,




lbs.

Lg.

Wd.

Ht.

Style

O'all




Ht.

No.


of

No.

of
Sockets
per End

Ht.

Wd.


Between
Rails
Wheel
Configuration
Brake
Type
Wheel
Material
Assembled
or
Unassembled
Each

Gray

Powder-Coated

Steel Platform and Gray

Powder-Coated

Steel Rail

A
1,200
31"
28"
8"
Open
35"
3
3
27"
12"
Four Swivel Casters
None
Polyurethane Rubber
Unassembled
0000000
0000000
B
2,000
36"
24"
9"
Solid
46"
6
7
12", 24", 36"
2

1/2

"
Two Swivel and Two Rigid Casters
None
Phenolic Plastic
Unassembled
0000000
00000000
B
2,000
48"
24"
9"
Solid
46"
6
7
12", 24", 36"
2

1/2

"
Two Swivel and Two Rigid Casters
None
Phenolic Plastic
Unassembled
0000000
00000000
B
2,000
60"
30"
9"
Solid
46"
6
7
12", 24", 36"
3

1/2

"
Two Swivel and Two Rigid Casters
None
Phenolic Plastic
Unassembled
0000000
00000000

Red

Vinyl-Coated

Steel Platform and Silver Painted Steel Rail

C
2,400
36"
27

1/2

"
7

1/2

"
Open
33

3/4

"
3
3
26"
11

7/8

"
Two Swivel and Two Rigid Casters
None
Phenolic Plastic
Unassembled
0000000
000000
C
2,400
36"
27

1/2

"
7

1/2

"
Open
52

1/2

"
3
3
45"
11

7/8

"
Two Swivel and Two Rigid Casters
None
Phenolic Plastic
Unassembled
0000000
000000
D
3,200
54"
30"
11

3/4

"
Perforated
38"
2
4
26

1/4

"
8

1/2

"
Two Swivel and Two Rigid Casters
None
Polypropylene Plastic
Unassembled
0000000
00000000

Gray

Powder-Coated

Steel Platform and Blue

Powder-Coated

Steel Rail

E
3,600
36"
24"
9"
Solid
36"
2
4
27"
6"
Two Swivel and Two Rigid Casters
Wheel Brake

Polyurethane Rubber
Unassembled
0000000
000000
E
3,600
48"
24"
9"
Solid
36"
2
4
27"
6"
Two Swivel and Two Rigid Casters
Wheel Brake

Polyurethane Rubber
Unassembled
0000000
000000
E
3,600
60"
30"
9"
Solid
36"
2
4
27"
8"
Two Swivel and Two Rigid Casters
Wheel Brake

Polyurethane Rubber
Unassembled
0000000
000000