Inch Size
Hollow-Core

Cutters for

Magnetic-Base

Drills
Use these cutters with magnetic-base drills. You can also pair them with an arbor adapter (sold separately) when using a manual drill press or milling machine. Unlike drill bits, these cut only on the periphery of the hole and produce a solid slug. Also known as annular cutters.
High-speed steel cutters have a bright finish and are for general purpose cutting.
Titanium nitride (TiN) coated high-speed steel cutters last longer than uncoated high-speed steel.
Cobalt steel cutters offer better heat and abrasion resistance than high-speed steel.
Carbide-tipped steel cutters last longer than high-speed steel and cobalt steel cutters and are for high-volume cutting of difficult-to-machine materials. Note: These cutters are more sensitive to shock and vibration compared to other cutters and should not be used with Jancy magnetic-base drill model USA101.
Pilot pins align the cutter and eject the slug. They're also known as ejector pins.
Arbor adapter for straight spindle fits a drill chuck or an R8 collet on a milling machine.
Arbor adapters for Morse taper spindle are for use on a drill press.
Arbor adapters for carbide-tipped steel cutters come with a pilot pin.
For technical drawings and 3-D models, click on a part number.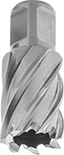 High-Speed
Steel,
Titanium Nitride
(TiN)-Coated
High-Speed
Steel,
and Cobalt Steel
For Cutter Diameter

(For Cutter Material)

For Cutter
Depth
Diameter
Each

For

High-Speed

Steel and Cobalt Steel

27/64

"-

17/32

" (High-Speed Steel, Cobalt Steel)
1"

3/16

"
0000000
000000

9/16

"-2" (High-Speed Steel, Cobalt Steel)
1"

1/4

"
000000000
0000

For

High-Speed

Steel,

Cobalt Steel and

Carbide-Tipped

Steel

27/64

"-

17/32

" (High-Speed Steel, Cobalt Steel, Carbide-Tipped Steel)
2"

3/16

"
0000000
00000

9/16

"-2" (High-Speed Steel, Cobalt Steel),

9/16

"-

5/8

" (Carbide-Tipped Steel)
2"

1/4

"
000000000
00000

11/16

"-2" (Carbide-Tipped Steel)
2"

5/16

"
00000000
00000
Shank Type
Morse Taper
Number
For Machine
Spindle Type
For Machine Spindle
Morse Taper

No.

Shank


Dia.

Overall


Lg.

For Shank
Size
Each

For

High-Speed

Steel and Cobalt Steel

Straight
__
__
__

3/4

"
5

1/8

"
__
000000000
0000000
Morse Taper
2
__
__
__
6

1/4

"
__
000000000
00000
Morse Taper
3
__
__
__
6

1/4

"
__
000000000
000000
__
__
Morse Taper
2
__
160mm

3/4

"
00000000
000000
__
__
Morse Taper
3
__
190mm

3/4

"
00000000
000000