Drill Bit Decimal Size Equivalents
Drill Bit Sets

These jobbers'-length bits have the rigidity and length required for most applications.
Black-oxide and black-and-gold-oxide drill bits produce less friction than uncoated drill bits.
For technical drawings and 3-D models, click on a part number.
No.

of
Pieces
Drill Bit Sizes Included
Point Style
Specifications
Met
For Use On
Each

Metric

Black-Oxide

High-Speed

Steel

50
1.0-5.9 mm (increments of 0.1 mm)
Standard
DIN 338
Steel, Iron, Stainless Steel
0000000
0000000
These assortments contain general-purpose bits.
Hex shank bits for power tools have a groove in the shank and fit directly into power tools without an adapter. They offer more reach for recessed holes and less wobble compared to a hex shank bit used with an adapter.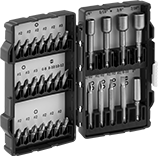 Hex

Phillips

Slotted

Torx

Square
No.

of
Pieces
Components
Included
Bits Included
Each

1/4"

Hex Shank Size for Power

Tools—

Steel

50
50 Bits
Phillips: No. 0, No. 1, No. 2, No. 3, No. 4
(2" O'all Lg.)—1 ea.
Slotted:

1/8

",

9/64

",

5/32

",

3/16

",

7/32

",

1/4

"


9/32

",

5/16

" (2" O'all Lg.)—1 ea.
Hex (Inch): 0.050",

1/16

",

5/64

",

3/32

",

7/64

",

1/8

"


9/64

",

3/16

",

7/32

",

1/4

" (2" O'all Lg.)—1 ea.
Hex (Inch):

5/32

" (2" O'all Lg.)—2 ea.
Hex (Metric): 2 mm, 2.5 mm, 3 mm, 4 mm, 5 mm
6 mm, 8 mm (2" O'all Lg.)—1 ea.
Torx: T5, T6, T7, T8, T9, T10, T15, T20, T27
T30, T40 (2" O'all Lg.)—1 ea.
Torx: T25 (2" O'all Lg.)—2 ea.
Square: No. 0, No. 1, No. 2, No. 3
No. 4 (2" O'all Lg.)—1 ea.
000000
0000000