Drill Bit Decimal Size Equivalents
Masonry Drill Bits for Drilling Rigs
Use these diamond-coated hollow bits for wet drilling of masonry, concrete, and rebar with a drilling rig. They're not for dry drilling or use with portable electric drills or grinders. The size listed is the bit's OD.
Adapters let you use your bit on a drilling rig with a different thread size.

Drill
Bit
Size
Decimal
Size
Equivalent
Bit
ID
Overall


Lg.

Max.


Drilling


Dp.

Thread
Size

Type
Size
Point
Style
For
Use
On
Each
1

1/4

"
1.25"
1"
15

1/2

"
13"

5/8

"-11

Threaded Hub
1

1/4

"
Standard
Masonry, Concrete, Reinforced Concrete, Rebar
0000000
0000000

Overall


Lg.

Male
Thread Size

Female
Thread Size

For Drill Bit
Shank Type
Each
5

3/8

"

5/8

"-11

1

1/4

"-7

Threaded Hub
0000000
0000000
Replaceable
Carbide-Insert

Drill Bits
Use these bits to drill a large number of holes with high precision. When the cutting edges dull, replace the carbide inserts (sold separately) instead of the entire bit. Each drill bit requires two inserts—one on the inner cutting edge and one on the outer cutting edge. Bits can be used in CNC machines with coolant-through technology; holes in the bit allow coolant to be channeled through the tool for more efficient chip evacuation.
For technical drawings and 3-D models, click on a part number.

Shown with Carbide Inserts
(Sold Separately)
For Insert
Inscribed
Circle

Dia.

(IC)

Drill
Bit
Size
Decimal
Size
Equivalent
Overall


Lg.

Max.


Drilling


Dp.

Inner
Outer
For
Use
On
Type
Size
Each
Each

Steel

1

1/8

"
1.125"
6

3/4

"
3.38"
0.331"
0.350"
Steel, Hardened Steel, Tool Steel, Iron, Stainless Steel, Nickel, Titanium, Aluminum, Brass, Bronze, Fiberglass, Plastic
Round
1

1/4

"
0000000
0000000
0000000
00000
1

1/8

"
1.125"
9"
5.63"
0.331"
0.350"
Steel, Hardened Steel, Tool Steel, Iron, Stainless Steel, Nickel, Titanium, Aluminum, Brass, Bronze, Fiberglass, Plastic
Round
1

1/4

"
0000000
000000
0000000
0000

Inner Insert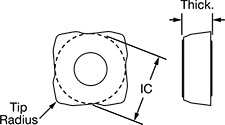 Inner Insert
For Drill
Bit Size
Inscribed
Circle

Dia.

(IC)

Thick.

Hole


Dia.

Tip
Radius
For Use On
Features
Each

Titanium-Aluminum-Nitride

(TiAlN)

Coated Carbide

1", 1

1/8

"
0.331"

1/8

"

1/8

"

1/64

"
Steel, Hardened Steel, Tool Steel, Iron, Stainless Steel, Nickel, Titanium, Aluminum, Brass, Bronze, Fiberglass, Plastic
Chip Breakers
0000000
000000

Outer Insert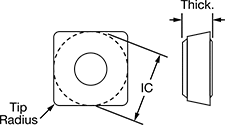 Outer Insert
For Drill
Bit Size
Inscribed
Circle

Dia.

(IC)

Thick.

Hole


Dia.

Tip
Radius
For Use On
Features
Each

Titanium-Nitride

(TiN)

Coated Carbide

1", 1

1/8

"
0.350"

1/8

"

1/8

"

1/32

"
Steel, Hardened Steel, Tool Steel, Iron, Stainless Steel, Nickel, Titanium, Aluminum, Brass, Bronze, Plastic
Chip Breakers
0000000
000000