Vacuum Attachments for
Drilling-Dust

Containment
Vacuum Attachment

Hose Adapter
Use one of these attachments with a vacuum to suck up concrete dust during drilling to help meet OSHA standards for silica dust exposure. Each attachment has two air chambers—one chamber sucks up the dust, and the other maintains suction on the wall. The included vacuum hose adapter allows the attachment to be used with 2 1/2" vacuum hose.
Magnetic Chip Catchers for Drilling Metal
Magnets on these catchers attach to metal surfaces and contain metal chips created during drilling.
Synthetic leather catchers can only be mounted underneath a metal surface. They contain a magnet at the bottom of the bag.
Plastic catchers can be mounted on top or underneath a metal surface.
Synthetic Leather Catcher with Bottom Mounting Location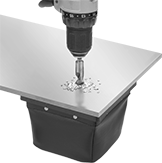 Bottom Mount Catcher Shown in Use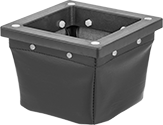 Bottom Mount Catcher
Lg.

Wd.

Ht.

Lg.

Wd.

No.

of
Magnets
Space Saving
Features
Each
5"
5"
4"
4"
4"
5
Collapsible
0000000
000000
Plastic Catcher with Top and Bottom Mounting Locations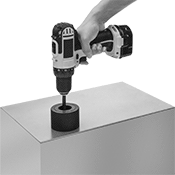 Top and
Bottom Mount Catcher Shown in Use

Top and
Bottom Mount Catcher
(Front)

Top and
Bottom Mount Catcher
(Back)
OD
ID

Ht.

No.

of
Magnets
Each
3"
2"
2"
10
0000000
000000
Drilling-Debris

Containment Disposable Bubbles


Make cleanup after drilling easy by containing chips and dust in these disposable bubbles. Use the adhesive backing to stick the bubble to the wall and pull the label to inflate. Drill through the bubble to the wall; then gently pull it off the surface to dispose.
Adjustable-Diameter

Hole Saws with Debris Guard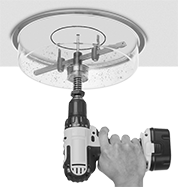 Hole Saw in Use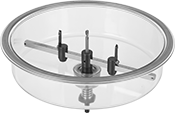 Hole Saw

Replacement Blades
With two adjustable blades, these saws cut a variety of hole sizes in ceilings, walls, floors, and other surfaces made of drywall, plaster, plastic, and wood. They're useful for installing cylindrical objects, such as cables, columns, recessed lighting, and in-wall speakers. To block flying chips and collect dust, they have a clear debris shield. A rubber seal on the shield maintains contact with the surface you're cutting to prevent damage to the material and help contain debris. Power these saws by attaching them to your drill press or portable drill.
Dia.

Arbor
Shank
Size

Dia.

Lg.

Material

Dia.

Material
Body
Material
Blade
Material
Includes
Each

Pkg.




Qty.

Pkg.

2

13/64

"-10"

3/8

"

15/64

"
1

11/16

"
High-Speed Steel
12

3/16

"
Polycarbonate Plastic
Steel
Carbon Steel
Blades, Hex Nuts, Pilot Drill, Spring
00000000
0000000
2
00000000
000000