Gatorade
Mix with water to quickly rehydrate and replace carbohydrates and minerals.
Packets that make 17 oz. or 20 oz. of Gatorade are typically used with bottled water. G Zero has no sugar or calories.
The variety pack includes eight packets of each flavor: fruit punch, lemon-lime, orange, and riptide rush.
Product regulations restrict sales to the listed jurisdictions/areas.

Powder
Makes
Gatorade
Amount
Net


Weight,




oz.

Type
Gatorade
Type
Cannot
Be
Sold To
Choose
a
Flavor

Pkg.




Qty.

Pkg.

17 oz.
1.23
Packet
Gatorade
Outside United States
10
00000000
00000
20 oz.
1.02
Packet
G Zero
Outside United States
10
00000000
0000
1 gal.
8.5
Packet
Gatorade
Outside United States
40
00000000
00000
2

1/2

gal.
21
Packet
Gatorade
Outside United States
32
0000000
000000
6 gal.
51
Packet
Gatorade
Outside United States
14
0000000
000000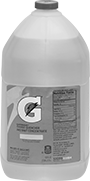 Liquid Concentrate
Makes
Gatorade


Amount,

gal.

Size,




gal.

Type
Gatorade
Type
Cannot
Be
Sold To
Choose
a
Flavor

1-3

4-Up

6
1
Jug
Gatorade
Outside United States
0000000
000000
000000