Bench-Top

Air Cleaner Hoods
Filtering away dust and particles, these hoods create a clean space for demanding work, such as bioprocessing, pharmaceuticals, electronics, and optics. They have a HEPA H14 filter to catch 99.995% of particles down to 0.1 microns, as well as a pre-filter to pull out large particles before they reach the HEPA filter. To draw air from outside the hood into the filters, they have a fan; there's no need to connect them to ductwork. A flow monitor tracks the airflow and alerts you with a visible and audible alarm if the fan fails. They meet Fed. Std. Class 100 and ISO Class 5 clean room requirements.
As an alternative to filtering the air of an entire room, these hoods leave a large enough opening for comfortable access inside and have internal fluorescent lighting to help you see your work. Their work surface is 304L stainless steel, which resists bacteria and chemicals, and also is easy to clean. Mount them on workbenches and carts that are designed to hold them, or place them on your own bench top.
These hoods cannot be sold to California.
For technical drawings and 3-D models, click on a part number.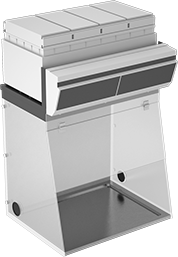 Airflow,


cfm
Volume
Voltage
Current

Ht.

Wd.

Dp.

Wd.

Dp.

Material
Color
Panel
Cutout


Dia.

Environmental
Rating
Cannot
Be
Sold To
Each

304L Stainless Steel Work Surface with Acrylic Enclosure

Hoods

185
59 dBA @ 5 ft.
120V AC
3A
47

3/4

"
31

3/4

"
24

1/4

"
26

1/2

"
20

1/2

"
Plastic
Black, Blue, White
2

7/8

"
Fed. Std. Class 100, ISO Class 5
CA
0000000
000000000
Ht.

Wd.

Dp.

Material
Wheel Configuration
Each

Mobile

34

7/8

"
30

3/4

"
24

1/4

"
Galvanized Steel
Four Swivel Casters (Two with Brakes)
0000000
0000000