Fixture Clamps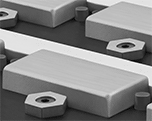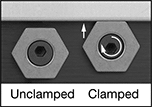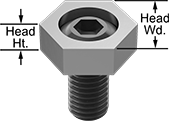 Hold a workpiece securely from the side with minimal contact, leaving more of the workpiece free for machining. Thread the clamp into a tapped hole and give the center screw a half turn for quick clamping.
Stainless steel clamps are a good choice to avoid corrosion when working with stainless steel workpieces or building a fixture from stainless steel.
For technical drawings and 3-D models, click on a part number.
Each
Wd.

Ht.

Max.


Movement

Max.


Clamping


Force,

lbs.

Size

Lg.

Size
Style

Head
Material
Screw
Material
Each

5/16

"

7/64

"
0.03"
200
8-32

11/32

"

5/64

"
Hex

Brass
Steel
00000000
00000

1/2

"

5/32

"
0.04"
350
10-32

11/32

"

3/32

"
Hex

Brass
Steel
00000000
0000

5/8

"

3/16

"
0.04"
800

1/4

"-20

15/32

"

1/8

"
Hex

Brass
Steel
00000000
0000

5/8

"

3/16

"
0.04"
800

1/4

"-20

15/32

"

1/8

"
Hex

Stainless Steel
Stainless Steel
00000000
00000

13/16

"

3/16

"
0.04"
800

5/16

"-18

15/32

"

3/16

"
Hex

Brass
Steel
00000000
0000

13/16

"

3/16

"
0.04"
800

5/16

"-24

15/32

"

3/16

"
Hex

Brass
Steel
00000000
0000

13/16

"

1/4

"
0.05"
2,000

3/8

"-16

23/32

"

3/16

"
Hex

Brass
Steel
00000000
0000
1"

3/8

"
0.1"
4,000

1/2

"-13

29/32

"

5/16

"
Hex

Brass
Steel
00000000
00000
1

3/16

"

1/2

"
0.1"
6,000

5/8

"-11

1

1/8

"

3/8

"
Hex

Brass
Steel
00000000
00000
Package
Wd.

Ht.

Max.


Movement

Max.


Clamping


Force,

lbs.

Size

Lg.

Size
Style

Head
Material
Screw
Material

Pkg.




Qty.

Pkg.

5/16

"

7/64

"
0.03"
200
8-32

11/32

"

5/64

"
Hex

Brass
Steel
10
00000000
000000

1/2

"

5/32

"
0.04"
350
10-32

11/32

"

3/32

"
Hex

Brass
Steel
10
00000000
00000

5/8

"

3/16

"
0.04"
800

1/4

"-20

15/32

"

1/8

"
Hex

Brass
Steel
10
00000000
00000

13/16

"

3/16

"
0.04"
800

5/16

"-18

15/32

"

3/16

"
Hex

Brass
Steel
12
00000000
00000

13/16

"

3/16

"
0.04"
800

5/16

"-24

15/32

"

3/16

"
Hex

Brass
Steel
12
00000000
00000

13/16

"

1/4

"
0.05"
2,000

3/8

"-16

23/32

"

3/16

"
Hex

Brass
Steel
10
00000000
00000
1"

3/8

"
0.1"
4,000

1/2

"-13

29/32

"

5/16

"
Hex

Brass
Steel
8
00000000
00000
1

3/16

"

1/2

"
0.1"
6,000

5/8

"-11

1

1/8

"

3/8

"
Hex

Brass
Steel
4
00000000
00000
Each
Wd.,


mm

Ht.,


mm

Max.




Movement,

mm

Max.

Clamping


Force,

lbs.

Size

Pitch,


mm

Lg.,


mm
Size
Style

Head
Material
Screw
Material
Each
7.93
2.8
0.76
200
M4

0.7
9.6
3 mm
Hex

Brass
Steel
00000000
00000
15.86
4.75
1.01
750
M6

1
11.2
4 mm
Hex

Brass
Steel
00000000
0000
20.61
4.55
1.01
750
M8

1.25
15
5 mm
Hex

Brass
Steel
00000000
0000
20.61
6.35
1.27
1,950
M10

1.5
19
7 mm
Hex

Brass
Steel
00000000
0000
25.38
9.52
2.03
3,950
M12

1.75
22.8
8 mm
Hex

Brass
Steel
00000000
00000
30.13
12.7
2.54
5,950
M16

2
28.5
12 mm
Hex

Brass
Steel
00000000
00000
Package
Wd.,


mm

Ht.,


mm

Max.




Movement,


mm

Max.


Clamping


Force,

lbs.

Size

Pitch,


mm

Lg.,


mm
Size
Style

Head
Material
Screw
Material

Pkg.




Qty.

Pkg.

7.93
2.8
0.76
200
M4

0.7
9.6
3 mm
Hex

Brass
Steel
10
00000000
000000
15.86
4.75
1.01
750
M6

1
11.2
4 mm
Hex

Brass
Steel
10
00000000
00000
20.61
4.55
1.01
750
M8

1.25
15
5 mm
Hex

Brass
Steel
12
00000000
00000
20.61
6.35
1.27
1,950
M10

1.5
19
7 mm
Hex

Brass
Steel
10
00000000
00000
25.38
9.52
2.03
3,950
M12

1.75
22.8
8 mm
Hex

Brass
Steel
8
00000000
00000
30.13
12.7
2.54
5,950
M16

2
28.5
12 mm
Hex

Brass
Steel
4
00000000
00000