Hand-Held

Sheet Metal Edge Shapers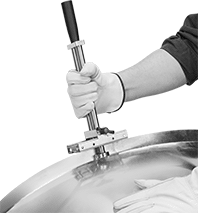 With a single tool, create both sharp creases and soft curves along the edges of sheet metal. Also known as edge rollers, these tools slide back and forth along edges to create even bends. Unlike benchtop sheet metal tools, these shapers are portable, so they're often used on-site by roofers. Use 1/8" markings to set up precise bends.
Throat


Dp.

For

Max.


Steel

Thick.

Max.

Bending
Angle
Graduation
Marks
Numeric
Increments

Lg.

Material
Each

For

Aluminum,

Stainless

Steel,

Steel

3/8

"-8"

1/32

"
90°
8ths
1"
13

1/2

"
Steel
0000000
0000000
Sheet Metal Edge Shapers
Make different edge styles on your sheet metal. It comes with rollers for turning, wiring, burring, beading, and crimping.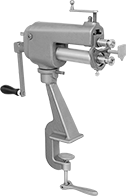 Burring

Crimping

Wiring
Throat


Dp.

Ht.

Wd.

Dp.

For

Max.


Steel


Thick.

Mount
Type

Max.

Mounting
Surface


Thick.

Material

Ctr.-to-Ctr.

Material
Includes
Each
7"
35"
15

3/8

"
21

1/8

"

1/64

"
C-Clamp
2

3/4

"
Steel
2"
Cast Iron
Rollers for Burring, Crimping, Wiring,

1/8

" Turning, and

3/4

" Ogee Bending
0000000
000000000
Additional and Replacement Rollers


Wiring

Burring

Elbow Edging



Crimping

Offset