How to

Identify and Measure Fittings
Pipe size is an industry designation, not the actual size. View information about how to measure threaded and unthreaded pipe and pipe fittings.
Ultra-Corrosion-Resistant

Yor-Lok

Fittings for Nickel Alloy Tubing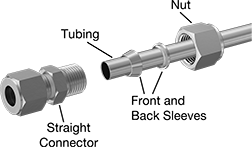 For Use

With:

Acetic

Acid,

Air,

Bleach,

Cutting

Oil,

Diesel

Fuel,

Formic

Acid,

Fuel

Oil,

Gasoline,

Hydraulic

Fluid,

Iron

Chlorides,

Mineral

Oil,

Salt

Water,

Steam,

Water
Temperature

Range:

0° to 1000° F

Tubing:

Use with seamless soft C276 nickel
Specifications

Met:

ASME

B31.

3
With the best corrosion resistance of any metal tube fittings we offer, these C276 nickel Hastelloy fittings stand up to aggressive chemicals and resist pitting and cracking from stress. Also known as instrumentation fittings, they are made to tight tolerances for use in high-precision applications. They include a nut with two sleeves (ferrules). The sleeves bite into tubing as you tighten the nut, creating a strong, leak-resistant seal. Fittings are compatible with Swagelok®, Let-Lok, and A-Lok fittings.
For technical drawings and 3-D models, click on a part number.