How to

Identify and Measure Fittings
Pipe size is an industry designation, not the actual size. View information about how to measure threaded and unthreaded pipe and pipe fittings.
Compression Fittings for Steel Tubing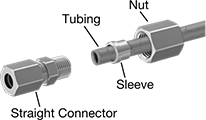 For Use

With:

Inch:

Air,

Hydraulic

Fluid,

Water


Metric:

Hydraulic Fluid

Tubing:

Inch:

Use with welded steel


Metric:

Use with seamless steel
Specifications

Met:

Inch:

SAE J514


Metric:

ISO

8434,

DIN 2353
A single sleeve (ferrule) bites into tubing as you tighten the nut, creating a strong seal. The nut and sleeve are included. Fittings are also known as flareless and bite fittings.
Zinc-plated steel fittings have fair corrosion resistance.
ISO 8434 (formerly DIN 2353) fittings meet international standards for tube fitting pressures.
For technical drawings and 3-D models, click on a part number.
90° Elbow Adapters, Tube × Male Threaded Pipe

Temperature

Range:

See table
OD
Wall

Thick.

Thread
Size

Thread
Pitch
Material

Max.

Pressure

Temp.




Range,

°F

Each

Metric Taper Threads

6mm
Not Rated
M10

1 mm
Zinc-Plated Steel
3,600 psi @ 72° F
-20° to 230°
00000000
000000
8mm
Not Rated
M12

1.5 mm
Zinc-Plated Steel
3,600 psi @ 72° F
-20° to 230°
00000000
00000
10mm
Not Rated
M14

1.5 mm
Zinc-Plated Steel
3,600 psi @ 72° F
-20° to 230°
00000000
00000
12mm
Not Rated
M16

1.5 mm
Zinc-Plated Steel
3,600 psi @ 72° F
-20° to 230°
00000000
00000

Temperature

Range:

See table
For Tube
OD
Nut Material

Max.

Pressure

Temp.




Range,

°F

Each
6mm
Zinc-Plated Steel
3,600 psi @ 72° F
-20° to 230°
00000000
00000
8mm
Zinc-Plated Steel
3,600 psi @ 72° F
-20° to 230°
00000000
0000
10mm
Zinc-Plated Steel
3,600 psi @ 72° F
-20° to 230°
00000000
0000
12mm
Zinc-Plated Steel
3,600 psi @ 72° F
-20° to 230°
00000000
0000

Temperature

Range:

See table
For Tube
OD
Sleeve Material

Max.

Pressure

Temp.




Range,

°F

Each
6mm
Zinc-Plated Steel
3,600 psi @ 72° F
-20° to 230°
00000000
00000
8mm
Zinc-Plated Steel
3,600 psi @ 72° F
-20° to 230°
00000000
000
10mm
Zinc-Plated Steel
3,600 psi @ 72° F
-20° to 230°
00000000
000
12mm
Zinc-Plated Steel
3,600 psi @ 72° F
-20° to 230°
00000000
000