Plate Bevelers

Components Sold Separately
Create beveled edges, contours, and cutouts on flat plates in order to prepare them for welding and give them a finished look. For a complete setup, you'll need a beveler and a cutter head with the right angle for your application.
Bevelers have an electric motor to remove material quickly. Maneuver them using the rotating handle. To set the length of the bevel and make sure it'll be even, they have an adjustable guide you hold against the plate as you cut. When it's time to change cutter heads, these bevelers have a spindle lock that stops the spindle from rotating, which makes the switch quicker and safer.
Cutter heads produce an accurate, consistent bevel angle and a smooth finish. Swap between heads for different angles and replace them when they get worn out or damaged.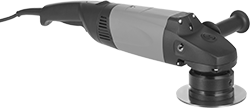 Beveler
Power
Source
Maximum


Speed,


rpm

Current,


A
Voltage

Mount
Type
Speed
Control
Type
Overall
Length

Weight,




lbs.

Features
Each
Electric
6,600
15
120V AC
Hand Held
Fixed
22

1/2

"
21
Adjustable Guide, Rotating Handle, Spindle Lock
0000000
000000000

Cutter Head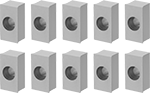 Replacement Insert
For Use On
Cutting Pattern
Bevel
Angle
Insert Material
Number of
Inserts Included
Each

Pkg.




Qty.

Pkg.

2 Cutting

Edges per Insert

Aluminum, Brass, Bronze, Copper, Iron, Plastic, Stainless Steel, Steel, Tool Steel
Straight Bevel
30°
Titanium Nitride (TiN)-Coated Carbide
3
0000000
0000000
10
0000000
0000000
Aluminum, Brass, Bronze, Copper, Iron, Plastic, Stainless Steel, Steel, Tool Steel
Straight Bevel
45°
Titanium Nitride (TiN)-Coated Carbide
3
0000000
000000
10
0000000
000000