Barriers for Hazardous Location Proximity Switches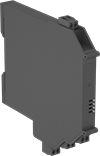 Barrier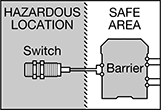 Safely transmit power to switches and sensors in highly volatile areas. Commonly used in refineries, power plants, and wastewater-treatment facilities, these barriers use a NAMUR signal to reduce the current and voltage coming from your power supply—preventing sparks and ignition. While these barriers connect to switches in hazardous locations, they must be installed in a separate nonhazardous area, along with the power supply. As associated apparatuses for IECEx and ATEX internationally certified switches, they should be paired with items that have corresponding ratings. Mount to DIN rails inside control cabinets and electrical panels.
Barriers with a relay signal output are slower than those with a transistor output, but they can handle higher AC and DC loads. Because of their moving parts, they wear out quicker than transistors. Use them to turn devices on and off, such as light bulbs and small motors.
Barriers with a transistor signal output are faster and last longer than those with a relay output. However, they can only be used to handle DC loads. Connect them to receiving devices, such as remote displays and programmable logic controllers (PLCs).
For technical drawings and 3-D models, click on a part number.
Operating
Voltage
Voltage
Current

No.


of
Signal
Type
Current

No.


of
Signal
Type
Switching
Frequency
Environmental
Rating
Each

Plastic Housing

115V AC
10V DC
8mA
1
NAMUR
2 A @ 253 V AC
2 A @ 40 V DC
4 A @ 126 V AC
1
Relay
10 Hz
Associated Apparatus for IEC Zone 0 Groups IIC, IIB, IIA
Associated Apparatus for IEC Zone 20 Groups IIIC, IIIB, IIIA
IP20
0000000
0000000
24V DC
10V DC
8mA
1
NAMUR
0.05 A @ 24 V DC
2
Transistor
5 kHz
Associated Apparatus for IEC Zone 0 Groups IIC, IIB, IIA
Associated Apparatus for IEC Zone 20 Groups IIIC, IIIB, IIIA
IP20
0000000
000000
24V DC
8V DC
8mA
4
NAMUR
2 A @ 230 V AC
2 A @ 40 V DC
4
Relay
10 Hz
Associated Apparatus for IEC Zone 0 Groups IIC, IIB, IIA
Associated Apparatus for IEC Zone 20 Groups IIIC, IIIB, IIIA
IP20
0000000
000000