Enclosure Keys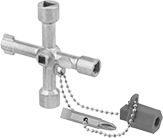 A

B

C

D

E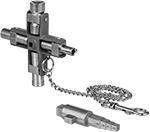 F

G

Female Square

Female Triangle


Female Half Moon

Male Stepped Square

Female Crown

Female Hex

Male Hex

Male Square

Male Slotted
These keys are for use on a wide range of enclosure, facility locking, and shut-off systems.
Style A, B and F keys give you an assortment of key profiles in a single tool.
Style G keys unfold to use straight or at a 90 degree angle.
For technical drawings and 3-D models, click on a part number.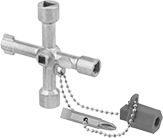 A

Female Square

Female Triangle

Material
Gender
Key Style
Square Key Size
Triangle
Key Size

Two-Way


Key Size
Each
Zinc
Female
Square, Triangle, Two Way
5 mm, 6 mm, 8 mm
9 mm
3-5 mm
000000
000000

B

Female Half Moon

Female Square

Female Triangle


Male Stepped Square
Material
Gender
Key
Style
Square
Key
Size
Triangle
Key
Size

Two-Way


Key
Size

Half-Moon


Key
Size
Stepped
Square
Key Size
Each
Zinc
Female, Male
Square, Triangle, Two Way, Half Moon, Stepped Square
10-11 mm, 5 mm, 6-7 mm, 8-9 mm
11-12 mm, 7-8 mm, 9-10 mm
3-5 mm
6 mm
6-9 mm
000000
000000

C

Female Crown

Female Half Moon

Female Hex

Female Square

Female Triangle


Male Hex

Male Square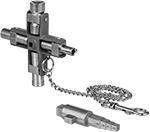 F

Female Half Moon

Female Square

Female Triangle


Male Stepped Square
Material
Gender
Key
Style
Square
Key
Size
Triangle
Key
Size

Two-Way


Key
Size

Half-Moon


Key
Size
Stepped
Square
Key Size
Each
Zinc
Female, Male
Square, Triangle, Two Way, Half Moon, Stepped Square
5 mm, 6 mm, 7-8 mm, 9-10 mm
8-9 mm, 7 mm, 10-11 mm
3-5 mm
6 mm
6-10 mm
000000
000000

G

Female Square

Female Triangle

Material
Gender
Key Style
Square
Key Size
Triangle
Key Size

Two-Way


Key Size
Maximum


Fold-Out

Angle
Each
Zinc
Female
Square, Triangle, Two Way
5-8 mm
7-9 mm
3-5 mm
180°
000000
000000