Shelves for Electronics Cabinets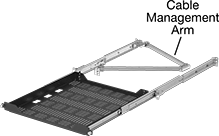 Shelf with Optional Cable Management Arm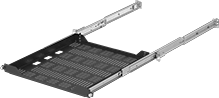 Shelf

Cable Management Arm
Mount these shelves in standard electronics cabinets that are 19 in. wide to hold components that cannot fit directly to the enclosure. They adjust to different rack depths and are quick to remove thanks to their adjustable mounting bracket; you can even flip them upside down so their lip isn't in the way. Locking slides hold these shelves in place when they're fully open and closed. To help prevent electrical components from overheating, they're vented.
Aluminum shelves are lightweight and corrosion resistant. Steel shelves handle heavier components than aluminum shelves.
Add cable management arms to hold electrical cables out of the way and protect them from damage when you slide the shelves.
For technical drawings and 3-D models, click on a part number.