EMI/RFI-Shielded

Enclosures
These enclosures reduce electromagnetic interference (EMI) and radio frequency interference (RFI), which can cause electrical problems like flickering monitors, interrupted data signals, and unwanted radio noise. Use them near motors, generators, and other equipment that produces EMI or RFI. Enclosures protect the parts inside and also keep EMI/RFI generated within the enclosure from getting out.
To install parts inside the enclosure, screw a DIN rail or panel on to the internal mounting bosses, or mount components directly to the bosses using self-tapping screws. Use the outside mounting holes to attach the enclosure to a wall or surface. For more mounting flexibility, screw on wall-mount brackets where you need them.
Aluminum enclosures stop medium-range frequency interference in most applications. They have two gaskets—a woven steel gasket joins the two sides of the enclosure for continuous EMI/RFI shielding, and a silicone rubber gasket seals the enclosure to protect your equipment from wet, oily, and corrosive environments. Enclosures that meet IP65 protect the contents from washdowns, dust, and dirt. Enclosures that meet IP67 are submersible in one meter of water for up to 30 minutes and protect the contents from dust and dirt.
Zinc-plated steel enclosures block 10 times as much interference as aluminum enclosures. They protect sensitive components and precision measuring equipment, even when they're close to sources of high-frequency EMI or RFI. A neoprene gasket seals the enclosure to keep out moisture; it's covered in steel mesh to stop EMI/RFI noise from coming through the seam between the two halves of the enclosure. Enclosures are rated NEMA 13 to withstand oily and wet locations. UL listed, C-UL listed, and CSA certified, they meet American and Canadian safety standards.
Interference reduction at frequency, also known as attenuation, is how much EMI/RFI the enclosure blocks.
For technical drawings and 3-D models, click on a part number.

Silicone and Woven Steel Gaskets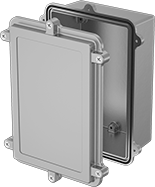 Aluminum

Aluminum Panel
Height
Width
Depth
Interference
Reduction
@ Frequency
Environment
Environmental
Rating
Each

Pkg.




Qty.

Pkg.

For Mounting
Fastener
Screw Size

Each

With

Lift-Off

Cover and Screw Closure

3

3/4

"
3

3/4

"
1

3/4

"
70 dB @ 1 GHz
Corrosive, Damp, Oily, Outdoor, Submersible, Washdown
IP67; NEMA 4X; NEMA 13
0000000
000000
4
0000000
00000
M3.5

0000000
00000
3

3/4

"
3

3/4

"
2

5/8

"
70 dB @ 1 GHz
Corrosive, Damp, Oily, Outdoor, Submersible, Washdown
IP67; NEMA 4X; NEMA 13
0000000
00000
4
0000000
0000
M3.5

0000000
0000
5

7/8

"
4"
2"
70 dB @ 1 GHz
Corrosive, Damp, Oily, Outdoor, Submersible, Washdown
IP67; NEMA 4X; NEMA 13
0000000
00000
4
0000000
0000
M3.5

0000000
0000
5

7/8

"
4"
3"
70 dB @ 1 GHz
Corrosive, Damp, Oily, Outdoor, Submersible, Washdown
IP67; NEMA 4X; NEMA 13
0000000
00000
4
0000000
0000
M3.5

0000000
0000
6"
4

1/2

"
1

1/4

"
70 dB @ 1 GHz
Corrosive, Damp, Oily, Outdoor, Submersible, Washdown
IP67; NEMA 4X; NEMA 13
0000000
00000
4
0000000
0000
M3.5

0000000
0000
6"
4

1/2

"
2

1/4

"
70 dB @ 1 GHz
Corrosive, Damp, Oily, Outdoor, Submersible, Washdown
IP67; NEMA 4X; NEMA 13
0000000
00000
4
0000000
0000
M3.5

0000000
0000
6

3/8

"
6

3/8

"
2

1/4

"
70 dB @ 1 GHz
Corrosive, Damp, Oily, Outdoor, Submersible, Washdown
IP67; NEMA 4X; NEMA 13
0000000
00000
4
0000000
0000
M3.5

0000000
0000
6

3/8

"
6

3/8

"
3

1/8

"
70 dB @ 1 GHz
Corrosive, Damp, Oily, Outdoor, Submersible, Washdown
IP67; NEMA 4X; NEMA 13
0000000
00000
4
0000000
0000
M3.5

0000000
0000
7

1/2

"
3

3/4

"
1

3/4

"
70 dB @ 1 GHz
Corrosive, Damp, Oily, Outdoor, Submersible, Washdown
IP67; NEMA 4X; NEMA 13
0000000
00000
4
0000000
0000
M3.5

0000000
0000
7

1/2

"
3

3/4

"
2

5/8

"
70 dB @ 1 GHz
Corrosive, Damp, Oily, Outdoor, Submersible, Washdown
IP67; NEMA 4X; NEMA 13
0000000
00000
4
0000000
0000
M3.5

0000000
0000
7

7/8

"
5

7/8

"
1

1/8

"
70 dB @ 1 GHz
Corrosive, Damp, Oily, Outdoor, Submersible, Washdown
IP67; NEMA 4X; NEMA 13
0000000
00000
4
0000000
0000
__
000000
00
7

7/8

"
6"
2"
70 dB @ 1 GHz
Corrosive, Damp, Oily, Outdoor, Submersible, Washdown
IP67; NEMA 4X; NEMA 13
0000000
00000
4
0000000
0000
M3.5

0000000
0000
7

7/8

"
6"
3"
70 dB @ 1 GHz
Corrosive, Damp, Oily, Outdoor, Submersible, Washdown
IP67; NEMA 4X; NEMA 13
0000000
00000
4
0000000
0000
M3.5

0000000
0000
8"
5

5/8

"
2

1/4

"
70 dB @ 1 GHz
Corrosive, Damp, Oily, Outdoor, Submersible, Washdown
IP67; NEMA 4X; NEMA 13
0000000
00000
4
0000000
0000
M3.5

0000000
0000
8"
5

5/8

"
3

1/8

"
70 dB @ 1 GHz
Corrosive, Damp, Oily, Outdoor, Submersible, Washdown
IP67; NEMA 4X; NEMA 13
0000000
00000
4
0000000
0000
M3.5

0000000
0000
10

3/8

"
7

1/4

"
2

1/4

"
70 dB @ 1 GHz
Corrosive, Damp, Oily, Outdoor, Submersible, Washdown
IP67; NEMA 4X; NEMA 13
0000000
00000
4
0000000
0000
M3.5

0000000
0000
10

3/8

"
7

1/4

"
3

5/8

"
70 dB @ 1 GHz
Corrosive, Damp, Oily, Outdoor, Submersible, Washdown
IP67; NEMA 4X; NEMA 13
0000000
000000
4
0000000
0000
M3.5

0000000
0000
10

3/4

"
6

3/4

"
2

5/8

"
70 dB @ 1 GHz
Corrosive, Damp, Oily, Outdoor, Submersible, Washdown
IP67; NEMA 4X; NEMA 13
0000000
00000
4
0000000
0000
M3.5

0000000
0000
10

3/4

"
6

3/4

"
4"
70 dB @ 1 GHz
Corrosive, Damp, Oily, Outdoor, Washdown
IP65; NEMA 4X; NEMA 13
0000000
00000
4
0000000
0000
M3.5

0000000
0000

Neoprene Gasket with Steel Mesh Cover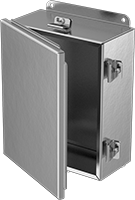 Steel Panel
Height
Width
Depth
Interference
Reduction
@ Frequency
Environment
Environmental
Rating
Specifications
Met
Each
Each

With Hinged Cover and

Screw-Down

Clamps

6"
4"
3"
80 dB @ 1 GHz
Oily, Wet Location
NEMA 13

UL Listed
C-UL Listed
CSA Certified
0000000
0000000
0000000
00000
6"
6"
4"
80 dB @ 1 GHz
Oily, Wet Location
NEMA 13

UL Listed
C-UL Listed
CSA Certified
0000000
000000
0000000
0000
8"
6"
3

1/2

"
80 dB @ 1 GHz
Oily, Wet Location
NEMA 13

UL Listed
C-UL Listed
CSA Certified
0000000
000000
0000000
00000
10"
8"
4"
80 dB @ 1 GHz
Oily, Wet Location
NEMA 13

UL Listed
C-UL Listed
CSA Certified
0000000
000000
0000000
00000
12"
10"
5"
80 dB @ 1 GHz
Oily, Wet Location
NEMA 13

UL Listed
C-UL Listed
CSA Certified
0000000
000000
0000000
00000
14"
12"
6"
80 dB @ 1 GHz
Oily, Wet Location
NEMA 13

UL Listed
C-UL Listed
CSA Certified
0000000
00000000
0000000
00000
16"
14"
6"
80 dB @ 1 GHz
Oily, Wet Location
NEMA 13

UL Listed
C-UL Listed
CSA Certified
0000000
00000000
0000000
00000