Door Holders for Enclosures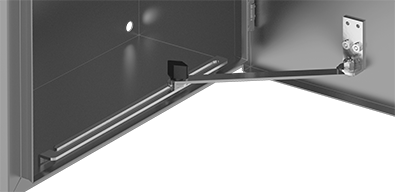 Bottom Mounting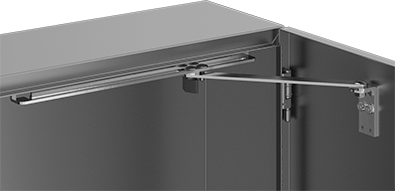 Open and lock your enclosure door into place so it won't close while you're working inside the enclosure. Made of strong, sturdy steel, these holders stand up to most applications. Install them with the included sealing washers to maintain your enclosure's NEMA rating.
Holders that open 0° to 90° are best for enclosures in tight spots or near sensitive equipment that you don't want to accidentally bump.
Choose holders that open 90° to 135° when you need a lot of space to work inside your enclosure.
For technical drawings and 3-D models, click on a part number.
Hold
Open
Range
For
Minimum
Door Width
For
Maximum
Door Width
Finish
Material
Hardware
Included
Screw
Size

For Enclosure
Environmental
Rating
Includes
Each

Bottom and Top Mounting

0° to 90°
16"
Not Rated
Zinc-Plated
Steel
Yes
No. 12

NEMA 12, NEMA 4
Sealing Washers
0000000
0000000

Bottom Mounting

90° to 135°
12"
Not Rated
Zinc-Plated
Steel
Yes
1/4"

NEMA 12, NEMA 4, NEMA 4X
Sealing Washers
0000000
000000