Thread Mills

For Internal/External
and External Threading
Cut a range of thread sizes with a single tool. These thread mills can also produce both right-hand and left-hand threads. All are made of solid carbide with an aluminum-titanium-nitride (AlTiN) coating, so they have high strength and excellent wear resistance, even when cutting hard and abrasive material. Use them in a CNC machine that allows helical interpolation.
When used for internal threading, thread mills can create threads of any size equal to or greater than the minimum size listed. They leave space in the hole for chips to fall, and a broken thread mill can fall into the hole without damaging the workpiece.
Thread mills for internal threading cut threads more quickly than other thread mills, but the threads they create have a fixed pitch.
Thread mills for external threading cut with single point, producing rounded threads that are commonly used for high-stress fastening applications involving heavy loads and high pressures. Each cuts a single thread pitch.
Thread mills for internal/external threading have a single cutting point that cuts threads in a range of different pitches on both the inside and outside of the workpiece.
For technical drawings and 3-D models, click on a part number.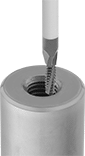 For

Min.


Thread Size
Thread


Pitch,

mm
Threads
Per Inch
Thread


Lg.

Overall


Lg.

No.

of
Flutes
Thread Type
Shank
Size
Each

Aluminum-Titanium-Nitride

(AlTiN)

Coated Carbide

No. 4
__
40

3/16

"
2

1/2

"
2
UNC, UNEF, UNF, UNJ, UNS

1/4

"
0000000
0000000
No. 6
__
32

17/64

"
2

1/2

"
3
UNC, UNEF, UNF, UNJ, UNS

1/4

"
0000000
000000
No. 8
__
32

17/64

"
2

1/2

"
3
UNC, UNEF, UNF, UNJ, UNS

1/4

"
0000000
000000
No. 10
__
32

21/64

"
2

1/2

"
3
UNC, UNEF, UNF, UNJ, UNS

1/4

"
0000000
000000
No. 10
__
24

11/32

"
2

1/2

"
3
UNC, UNEF, UNF, UNJ, UNS

1/4

"
0000000
000000

1/4

"
__
20

33/64

"
2

1/2

"
3
UNC, UNEF, UNF, UNJ, UNS

1/4

"
0000000
000000

5/16

"
__
18

5/8

"
2

1/2

"
3
UNC, UNEF, UNF, UNJ, UNS

1/4

"
0000000
000000

3/8

"
__
16

25/32

"
3"
4
UNC, UNEF, UNF, UNJ, UNS

5/16

"
0000000
000000

1/2

"
__
13

7/8

"
3"
4
UNC, UNEF, UNF, UNJ, UNS

3/8

"
0000000
000000
M5
0.8
__

21/64

"
2

9/32

"
3
Metric

0.2362"
0000000
000000
M6
1
__

31/64

"
2

9/32

"
3
Metric

0.2362"
0000000
000000
M8
1.25
__

21/32

"
2

9/32

"
3
Metric

0.2362"
0000000
000000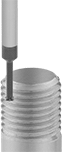 Threads
Per Inch
Overall


Lg.

Thread
Type
Shank
Size
Neck


Dia.

Each

Aluminum-Titanium-Nitride

(AlTiN)

Coated Carbide

32
3"
UNJ

3/8

"
0.24"
0000000
000000
28
3"
UNJ

3/8

"
0.24"
0000000
00000
24
3"
UNJ

3/8

"
0.24"
0000000
00000
20
3"
UNJ

3/8

"
0.24"
0000000
00000
18
3"
UNJ

3/8

"
0.24"
0000000
00000
16
3"
UNJ

3/8

"
0.24"
0000000
00000
12
3

1/2

"
UNJ

1/2

"
0.34"
0000000
000000
For Internal/External Threading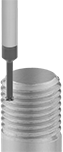 External Threading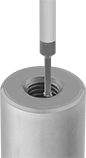 Internal Threading
For

Min.


Thread
Size
Threads
Per
Inch
Overall


Lg.

Thread
Type


(For Thread Location)

Shank
Size
Neck


Dia.

Each

Aluminum-Titanium-Nitride

(AlTiN)

Coated Carbide

No. 2
56-80
1

1/2

"
UNC, UNEF, UNF, UNS (Internal/External), UNJ (Internal)

1/8

"
0.034"
0000000
000000
No. 4
40-64
2"
UNC, UNEF, UNF, UNS (Internal/External), UNJ (Internal)

3/16

"
0.045"
0000000
00000
No. 6
32-64
2"
UNC, UNEF, UNF, UNS (Internal/External), UNJ (Internal)

3/16

"
0.049"
0000000
00000
No. 8
32-56
2"
UNC, UNEF, UNF, UNS (Internal/External), UNJ (Internal)

3/16

"
0.07"
0000000
00000
No. 10
24-56
2"
UNC, UNEF, UNF, UNS (Internal/External), UNJ (Internal)

3/16

"
0.075"
0000000
00000
No. 12
24-56
2"
UNC, UNEF, UNF, UNS (Internal/External), UNJ (Internal)

3/16

"
0.08"
0000000
00000

1/4

"
18-56
2

1/2

"
UNC, UNEF, UNF, UNS (Internal/External), UNJ (Internal)

1/4

"
0.104"
0000000
00000

5/16

"
16-48
2

1/2

"
UNC, UNEF, UNF, UNS (Internal/External), UNJ (Internal)

1/4

"
0.153"
0000000
00000

3/8

"
14-40
3"
UNC, UNEF, UNF, UNS (Internal/External), UNJ (Internal)

3/8

"
0.192"
0000000
00000

1/2

"
12-32
3"
UNC, UNEF, UNF, UNS (Internal/External), UNJ (Internal)

3/8

"
0.24"
0000000
00000