Data Connector Repair Clips


Instead of tossing Ethernet cords with a broken locking tab on their RJ45 plug, fix them with these clips. Simply snap one of these clips onto the broken plug, and then slide it forward until it snaps in next to the tab base. The tab on these clips will restore the plug's ability to make secure connections. These clips are designed to fit all RJ45 plugs. However, those with shielded plugs or oversized boots may need to be cut to fit.
For technical drawings and 3-D models, click on a part number.
Ethernet Port Security Clips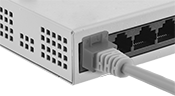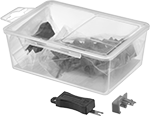 Ethernet Port Security Clips Kit

Replacement Secure Key

Replacement Locking Clips
Lock Ethernet cords in place to prevent unauthorized removal from ports. These security clips slide over RJ45 connectors, and can only be taken off with the included security keys. They can also be used with an RJ45 plug as a port blocker—no Ethernet cord required—to keep out heavy dust and unwanted connections.