Backlit Exit Signs
These signs are lit from within for high visibility. Mount them flush against a wall, or use the included bracket to mount them perpendicular to a wall or ceiling. They cannot be sold to Canada due to local energy efficiency requirements.
Signs with a message on the front and back have the same message on both sides. Signs also include a solid back plate to display the message on one side.
Signs with a backup battery stay illuminated during power failures.
Signs with knockout arrows allow you to punch out one or both arrows to point to the exit.
Plastic signs with a powder-coated steel frame are more durable than all-plastic signs.
Exit with Arrow (Left, Left and Right, Right)—Red Message on Front and Back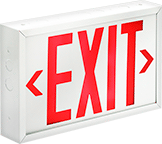 Replacement
Backup
Batteries

Ht.

Wd.

Bulbs
Included
Wire
Connection
Type
With
Backup
Battery
Mount
Type
Mounting
Fasteners
Included
Features
Specifications
Met
Cannot
Be
Sold To
Each
Each
Each

Polycarbonate Plastic

8"
12"
Yes
Wire Leads
No
Side, With Mounting Holes
No
Two Knockout Arrows
UL 924, UL 94 V-0
Canada
00000000
000000
000000
00
0000000
000000
8"
12"
Yes
Wire Leads
Yes
Side, With Mounting Holes
No
Two Knockout Arrows
UL 924, UL 94 V-0
Canada
00000000
00000
00000000
000000
0000000
00000

Polycarbonate Plastic with

Powder-Coated

Steel Frame

7"
12"
Yes
Wire Leads
No
Side, With Mounting Holes
No
Two Knockout Arrows
UL 924
Canada
000000
000000
000000
00
0000000
00000
7"
12"
Yes
Wire Leads
Yes
Side, With Mounting Holes
No
Two Knockout Arrows
UL 924
Canada
000000
000000
0000000
00000
0000000
00000
Exit with Arrow (Left, Left and Right, Right)—Green Message on Front and Back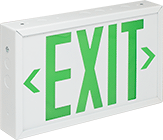 Replacement
Backup
Batteries

Ht.

Wd.

Bulbs
Included
Wire
Connection
Type
With
Backup
Battery
Mount
Type
Mounting
Fasteners
Included
Features
Specifications
Met
Cannot
Be
Sold To
Each
Each
Each

Polycarbonate Plastic

8"
12"
Yes
Wire Leads
No
Side, With Mounting Holes
No
Two Knockout Arrows
UL 924, UL 94 V-0
Canada
00000000
000000
000000
00
0000000
000000
8"
12"
Yes
Wire Leads
Yes
Side, With Mounting Holes
No
Two Knockout Arrows
UL 924, UL 94 V-0
Canada
00000000
00000
00000000
000000
0000000
00000

Polycarbonate Plastic with

Powder-Coated

Steel Frame

7"
12"
Yes
Wire Leads
No
Side, With Mounting Holes
No
Two Knockout Arrows
UL 924
Canada
00000000
000000
000000
00
0000000
00000
7"
12"
Yes
Wire Leads
Yes
Side, With Mounting Holes
No
Two Knockout Arrows
UL 924
Canada
00000000
000000
0000000
00000
0000000
00000
Wire Guards for Backlit Exit Signs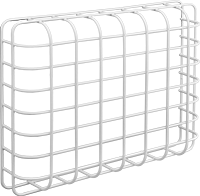 Ht.

Wd.

Dp.

Material
Steel Wire
Gauge
Color
Mount Type
Mounting
Fasteners Included
Each
10

1/2

"
13

3/4

"
2

3/4

"
Plastic-Coated Steel
9
White
With Mounting Holes
Yes
0000000
000000