Measured in decibels (dB), volume ratings indicate how much noise equipment makes. Some common volume levels include a whisper @ 20 dB, a refrigerator @ 40 dB, a conversation @ 60 dB, and a light machine shop @ 90 dB. OSHA recommends hearing protection for exposure to 80 dB and greater.
Direct-Drive

Corrosion-Resistant

Duct Fans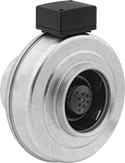 A galvanized steel housing offers good corrosion resistance. All of these direct-drive fans have fewer moving parts than belt-drive fans for less maintenance. Also known as axial duct fans, they install inline in ductwork for use as an exhaust, supply, or booster fan. The fans have a totally enclosed motor enclosure, which can be used in dirty, dusty, and damp environments.
Note: Airflow depends on the resistance created by ductwork. This resistance, known as static pressure (SP), is measured in inches of water.
For
Duct


Dia.

Airflow @
Static
Pressure
Motor


Speed,


rpm

Power,


hp

Dia.

Ht.

Dp.

Max.




Temp.,




°F

Housing
Material
Blade
Material
Specifications
Met
Each

120V

AC,

Single

Phase—

Hardwire

4"
90 cfm @

3/8

in. of H₂O
115 cfm @

1/8

in. of H₂O
3,000

1/40

8

3/4

"
10

3/4

"
6

1/2

"
140°
Galvanized Steel
Polypropylene Plastic
C-UL Listed, UL Listed
0000000
0000000
5"
105 cfm @

3/8

in. of H₂O
135 cfm @

1/8

in. of H₂O
3,000

1/40

8

3/4

"
10

3/4

"
5

1/2

"
140°
Galvanized Steel
Polypropylene Plastic
C-UL Listed, UL Listed
0000000
000000

120V

AC,

Single

Phase—

Plug

4"
90 cfm @

3/8

in. of H₂O
115 cfm @

1/8

in. of H₂O
3,000

1/40

8

3/4

"
10

3/4

"
6

1/2

"
140°
Galvanized Steel
Polypropylene Plastic
C-UL Listed, UL Listed
0000000
000000
5"
105 cfm @

3/8

in. of H₂O
135 cfm @

1/8

in. of H₂O
3,000

1/40

8

3/4

"
10

3/4

"
5

1/2

"
140°
Galvanized Steel
Polypropylene Plastic
C-UL Listed, UL Listed
0000000
000000