About Calculating the Airflow Required for Air Cleaning
Floor-Mount

Fume Exhausters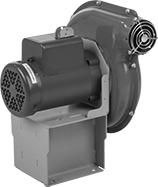 Black
Powder-Coated
Steel
Remove fumes, vapors, and fine dust particles from your space. These exhausters are commonly used in welding, soldering, and other operations that create fumes.
Note: Airflow depends on the resistance created by ductwork. This resistance, known as static pressure (SP), is measured in inches of water.
Totally enclosed exhausters have an external fan for cooling. These exhausters offer more protection than open dripproof exhausters. They can be used in dirty, dusty, and damp environments, but are not airtight.
Single-duct kits (sold separately) maximize airflow at one fume collection point. They include a hose, a nozzle, and two clamps.
Dual-duct kits (sold separately) create two points for fume collection, although each will have lower airflow than the one collection point of a single-duct kit. These kits include two hoses, two nozzles, four clamps, and a wye connector.
Airflow @
Static
Pressure
Volume

Power,


hp
Inlet


Dia.

Outlet


Dia.

Ht.

Wd.

Dp.

Housing
Material
Base
Material
Fasteners
Included
For
Screw
Size

Hole


Dia.

Number
of
Holes
Each

Totally Enclosed

120V

AC,

Single

Phase—

Plug

755 cfm @

1/2

in. of H₂O
72 dBA @ 15 ft.

3/4

6"
6"
20

1/4

"
17"
15

3/4

"
Black Powder-Coated Steel
Steel
No

3/8

"

7/16

"
4
00000000
000000000