About Calculating the Airflow Required for Air Cleaning
Portable Fume Exhausters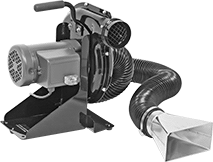 In addition to using the handle to carry these exhausters, you can mount them to a wall, bench, or floor. They remove fumes, vapors, and fine dust particles from your space. They are commonly used in welding, soldering, and other operations that create fumes. All have a totally enclosed motor enclosure, which can be used in dirty, dusty, and damp environments. They have a flexible hose with nozzle to capture fumes at the source and rubber pads on the base to reduce vibration.
Note: Airflow depends on the resistance created by ductwork. This resistance, known as static pressure (SP), is measured in inches of water.
Single-duct kits (sold separately) include a hose, a nozzle, and two clamps to replace existing components.
Double-duct kits (sold separately) create two points for fume collection, although each will have lower airflow than the one collection point of a single-duct kit. These kits include two hoses, two nozzles, four clamps, and a wye connector.
Airflow @
Static
Pressure
Volume

Power,


hp
Inlet


Dia.

Outlet


Dia.

Ht.

Wd.

Dp.

Ht.

Wd.

Housing
Material
Fasteners
Included
For
Screw
Size

Hole


Dia.

Number
of
Holes
Each

120/230V

AC,

Single

Phase—

Hardwire

730 cfm @ 1

1/2

in. of H₂O
795 cfm @

1/4

in. of H₂O
810 cfm @ 0 in. of H₂O
73 dBA @ 15 ft.
1

1/2

6"
6"
21

3/8

"
21

1/2

"
16

1/2

"
8"
8"
Steel
No

3/8

"

7/16

"
4
0000000
000000000

230/460V

AC,

Three

Phase—

Hardwire

730 cfm @ 1

1/2

in. of H₂O
795 cfm @

1/4

in. of H₂O
810 cfm @ 0 in. of H₂O
73 dBA @ 15 ft.
1

1/2

6"
6"
21

3/8

"
21

1/2

"
16

1/2

"
8"
8"
Steel
No

3/8

"

7/16

"
4
0000000
00000000