Selecting Compatible Lead Screws and Nuts
Fast-Travel

Ultra-Precision

Lead Screws and Nuts
Multiple thread channels (also known as thread starts) create faster linear travel than lead screws with a single thread start. Operating with less backlash (play) than Precision Acme Lead Screws and Nuts, these lead screws and nuts provide increased nut life and more reliable movement in automated systems. All components are corrosion resistant for use in harsh environments. To ensure compatibility, select components that have the same thread type, thread size, and number of thread starts.
Travel distance per turn, also known as screw lead, is the distance a nut moves with one revolution of the lead screw.
For technical drawings and 3-D models, click on a part number.
Lead Screws—Right-Hand Threaded

Thread
Size

Lg.

No.

of
Thread
Starts
Thread
Type
Speed
Ratio
Travel
Distance
per Turn
Accuracy for
Travel
Distance per Turn
Hardness
Tensile


Strength,


psi

Each

303 Stainless Steel

1/4

"-8

3ft.
8
Rounded Acme

8:1
1"
±0.0006" per in.
Brinell 160
90,000
00000000
0000000

1/4

"-8

6ft.
8
Rounded Acme

8:1
1"
±0.0006" per in.
Brinell 160
90,000
0000000
000000
Flange Nuts—Right-Hand Threaded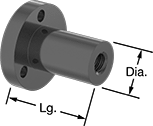 B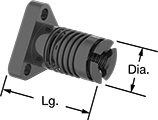 C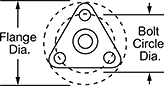 Flange nuts with wear-compensating internal O-ring or wear-compensating spring maintain a tight fit even when their threads begin to wear. They resist backlash to maintain accuracy over time, which is important in applications such as 3D printing and robotics.
Thread
Size

Lg.

Dia.

Dia.

Thick.

No.

of
Thread
Starts
Thread
Type
Speed
Ratio
Travel
Distance
per Turn
Bolt
Circle


Dia.

Tensile


Strength,


psi

Dynamic
Thrust
Load

Cap.,

lbs.

Each

Acetal Plastic

B

1/4

"-8

1"
0.5"
1"

3/16

"
8
Rounded Acme

8:1
1"

3/4

"
9,700
50
0000000
000000

Acetal Plastic with

Wear-Compensating

Spring

C

1/4

"-8

1"
0.5"
1"

3/16

"
8
Rounded Acme

8:1
1"

3/4

"
9,700
5
0000000
00000