Fast-Cutting

Ultrasonic Precision Knives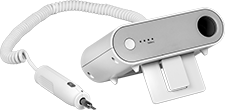 With a blade that oscillates over 40,000 times per second—faster than you can see or feel—these knives make fast, clean, and precise cuts in a variety of material. Use them to remove supports from 3D printed objects, shape printed circuit boards, and sculpt custom spacers, gaskets, and parts of all kinds.
These knives are faster than manual precision-blade knives and scalpels. Unlike hot-blade knives, they do not require a heat source and won't melt, burn, or crack your material. They're also less costly and easier to set up than laser cutters.
To turn the knife on, press and hold the button on the knife's handle. For safety, the knife turns off when you let go of the button. A contoured handle makes the knife easy to hold as you apply pressure.
Knives come with a rechargeable battery, so you can bring them anywhere you need. They also come with a pack of 40 replacement blades.
Lg.

Wd.

Thick.

Shank


Wd.

Edge
Blades
Replaceable
Material

Lg.

Material

Ht.

Wd.

Dp.

For

Max.


Material


Thick.

Batteries
Included
Battery
Type
Charger
Plug
Type
Includes
Each

For Use On

Cardboard,

Cork,

Fabric,

Leather,

Paper,

Plastic,

Rubber,

Wood

Steel Blade

1"

3/16

"
0.014"
0.19"
Straight
Yes
White Plastic
5

1/2

"
Blue and White Plastic
2

1/2

"
7"
4"

3/16

"
Yes
Rechargeable
Two Prong
40 Replacement Blades
0000000
0000000
| | | | |
| --- | --- | --- | --- |
| Replacement Blades (Pkg. of 40) | 0000000 | Pkg. | 00000 |
Precision Knife Blades

AA
Make precise cuts to paper, plastic, fabric, and other materials with these sharp blades.
Note: Width is the widest point of the cutting edge.
Lg.

Wd.

Thick.

Shank


Wd.

Material
Edge

Pkg.




Qty.

Pkg.

For Use On

Cardboard,

Cork,

Fabric,

Leather,

Paper,

Plastic,

Rubber,

Wood

Fits

Handle:

Cutra Wonder Cutter

AA
Angled for detail cutting
1"

3/16

"
0.014"
0.19"
Steel
Straight
40
0000000
00000
3D-Printed

Part Removal Tools
Separate 3D-printed parts from 3D-printer plates without damaging either one of them. These tools have a rounded edge to prevent nicks and scrapes.
Unlike conventional putty knives or spatulas, tools with a tapered blade have a right-angle handle that makes it easier to slide them under parts and loosen them from the plates. The rubber handle gives you a nonslip grip.
Tools with a bent blade come with a wire cutter, which helps remove 3D prints and solid supports. Use the nylon zipper bag to store these tools.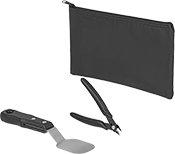 Removal Tool Kit
Wd.

Lg.

Material
Edge
Flexibility

Lg.

Material
Color
Includes
Each

Bent Blade

2"
3

3/4

"
Stainless Steel
Rounded
Rigid
4

3/4

"
Wood
Black
Nylon Zipper Bag, Wire Cutter
0000000
000000