Crimp-On

Ferrules for Air and Water Hose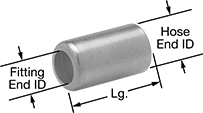 Use ferrules to create a permanent connection between your air- and water-hose and barbed hose fittings. You will need a hose crimper (sold separately) for installation.
Brass and aluminum ferrules have good corrosion resistance. Choose a ferrule with an ID no more than 0.025" larger than your hose OD (measured with the fitting installed); also make sure the ferrule is at least as long as the barbed end of your fitting.
For technical drawings and 3-D models, click on a part number.
Hose
End ID

Lg.

Fitting
End ID

Pkg.




Qty.

Pkg.

Aluminum

0.625"
0.968"
0.453"
50
0000000
000000