How to

Identify and Measure Fittings
Pipe size is an industry designation, not the actual size. View information about how to measure threaded and unthreaded pipe and pipe fittings.
About
Fire-Fighting

Hose Threads
Diverting Valves with
Fire-Fighting

Hose Fittings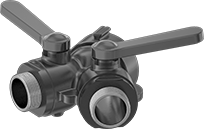 Valve

Type:

Ball

For Use

With:

Water
Seal

Material:

Buna-N Rubber
Control the flow of water in two directions from a single source—these diverting valves have two balls and handles for independent operation of each outlet. They can direct flow to one side outlet at full capacity while shutting off flow to the second side outlet, direct flow to both side outlets at reduced capacity, or shut off flow to both side outlets. Valves have a brass body for good corrosion resistance. They are for use with fire-fighting hose.
Flow coefficient (Cv) is the amount of water (in gallons per minute) at 60° F that will flow through a fully open valve with a difference of 1 psi between the inlet and the outlet.
NH/NST (National Hose/National Standard) threads are only compatible with other NH/NST threads. Male NPSH (National Pipe Straight Hose) threads are compatible with female NPSH threads. Female NPSH threads are compatible with male NPSH, NPT, NPTF, and NPSM threads.
For technical drawings and 3-D models, click on a part number.
NH/NST Female × NH/NST Male × NH/NST Male
Inlet Fire Hose
Trade Size
Outlet Fire Hose
Trade Sizes
Flow
Pattern
Flow
Coefficient

(Cv)

Max.

Pressure

Temp.




Range,

°F

End-to-End




Lg.

Each

Brass Body

2

1/2

1

1/2

× 1

1/2

Y-Pattern
Not Rated
300 psi @ 150° F
-20° to 150°
5

5/8

"
000000
0000000
NPSH Female × NPSH Male × NPSH Male
Inlet
Pipe Size

Outlet
Pipe Sizes
Flow
Pattern
Flow
Coefficient

(Cv)

Max.

Pressure

Temp.




Range,

°F

End-to-End




Lg.

Each

Brass Body

2

1/2

1

1/2

× 1

1/2

Y-Pattern
Not Rated
300 psi @ 150° F
-20° to 150°
5

5/8

"
000000
0000000