UV Light

Flaw-Detection

Kits
More sensitive than natural light kits, these kits use UV light with colored dye to detect cracks, seams, and pores on machined surfaces.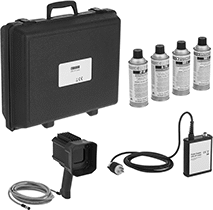 For
Use
On
Includes
Bulb
Type
Wattage
Voltage
Electrical
Connection
Type
Plug
Type
Cord


Length,




ft.

Specifications
Met
Each
Carbide, Cast Iron, Ceramic, Stainless Steel, Steel
One 16-oz Aerosol Can of Fluorescent Green Dye, One 16-oz. Can of Developer, Two 16-oz. Aerosol Cans of Cleaner, UV Light
Ultraviolet
5W
120V AC
Plug In
Three Prong
9
ASTM E1417, MIL-STD-2132, MIL-STD-271, SAE AMS2644
0000000
000000000
Natural Light
Flaw-Detection

Kits
Use colored dye to reveal cracks and surface flaws in most nonporous material. Flaws become visible under natural light and appear as a bright red color. Commonly used for weld inspecting.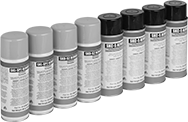 | | | | | |
| --- | --- | --- | --- | --- |
| For Use On | Includes | Specifications Met | | Each |
| Carbide, Cast Iron, Ceramic, Stainless Steel, Steel | Four 16-oz. Aerosol Cans of Cleaner, Two 16-oz. Aerosol Cans of Developer, Two 16-oz. Aerosol Cans of Red Dye | ASTM E1417, MIL-STD-2132, MIL-STD-271, SAE AMS2644 | 000000 | 0000000 |