Bend-and-Stay

Positioning Arms
Stronger and with greater load capacities than gooseneck-style positioning arms, these arms keep their shape even when moving or when exposed to vibration. They're often used in robotics and conveyor applications when frequent repositioning isn't required.
All accessories include the necessary hardware for attaching them to arms.
Clamp-on bases have two arm attachment locations. Place arms straight or at a right angle from the clamping screw. Clamp-on bases with a rubber V-block can be mounted to rounded surfaces such as pipe and railings.
Attach up to five arms to your base with multi-arm adapters.
Spring clamps with three attaching end mounting holes can be mounted parallel or perpendicular to your positioning arm. Spring clamps with a 4 1/2" reach clamp further into a workpiece than other spring clamps.
Three-finger clamps have bent fingers to hold workpieces that are hard to grip, such as beakers, flashlights, and webcams. A rotating position lock lets you rotate these clamps on your positioning arm. Secure clamps in place with the included locknut.
Ball-and-socket adapters and ball-and-socket connectors allow 360° rotation and up to 90° tilt. A locking knob keeps them in place.
Parallel brackets grip the ends of flat items.
Threaded studs convert the threaded hole on your positioning arm.
Thread adapters convert the thread size and type on your positioning arm.
Secure items to attaching-end mounting pads with glue, hook and loop, screws, or other fasteners.
Any-Which-Way

Positioning Arms
Bend these arms to hold small equipment such as lights and microphones in almost any position.
For technical drawings and 3-D models, click on a part number.
Spring Clamps with Flexible Arm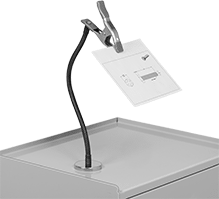 Shown with Magnetic Mount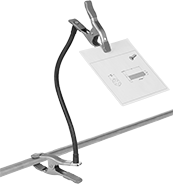 Shown with
Clamp-On
Mount

Magnetic Mount

Attached to an arm you can flex into position, these clamps hold objects such as a flashlight, tool, or instructions. Squeeze the handles to open the clamp; release and the spring holds it tightly in place.
Magnetic-mount clamp attaches to steel surfaces.
For technical drawings and 3-D models, click on a part number.