Drill Bit Decimal Size Equivalents
Flexible-Shaft

Drill Bits for Wire Installation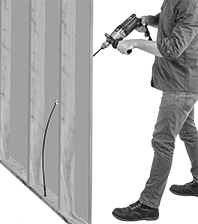 The shaft is made of spring steel instead of hardened steel, so it flexes while drilling, allowing you to drill inside walls or between floors. A hole in the flute near the tip lets you pull wire through after holes are drilled. The end of the wire must be stripped prior to attaching it to the bit. Also known as bell hanger bits.
Use a hand guide (sold separately) to position flexible-shaft drill bits.
Use a ball guide (sold separately) to keep flexible-shaft drill bits centered between studs and drywall.

Drill Bit
Size
Decimal Size
Equivalent
Type
Size
Shaft


Dia.

For
Use On

Max.


Drilling

Dp.

Each

Max.


Drilling

Dp.

Each

3/8

"
0.375"
Round

3/16

"

3/16

"
Wood
53"
000000
000000
71"
000000
000000

1/2

"
0.5"
Round

1/4

"

3/16

"
Wood
53"
000000
00000
71"
000000
00000

9/16

"
0.5625"
Round

1/4

"

3/16

"
Wood
53"
000000
00000
71"
000000
00000

5/8

"
0.625"
Round

1/4

"

3/16

"
Wood
53"
000000
00000
__
000000
00

3/4

"
0.75"
Round

1/4

"

1/4

"
Wood
53"
000000
00000
__
000000
00
1"
1"
Round

1/4

"

1/4

"
Wood
53"
000000
00000
__
000000
00

Ball Guide with Drill Bit

Ball Guides
Material
Shank
Type
Shank
Size
Shaft
Size

Dia.

No.

of
Guides
Each
Plastic
Round

3/16

"

3/16

"
1

1/2

", 2"
2
000000
000000