On/Off

Valves with

Press-Connect

Fittings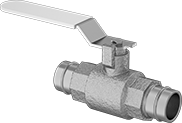 Press
Connect ×
Press Connect with Standard Handle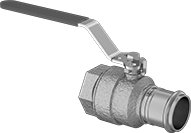 NPT Female ×
Press Connect with Lockable Handle
Valve

Type:

Ball

For Use

With:

See Table
Seal

Material:

EPDM Rubber
Specifications

Met:

NSF/ANSI 61
For a leak-tight connection that doesn't require heat or soldering, these valves have press-connect fittings that crimp to metal tubing with a press-connect crimping tool (sold separately). They meet NSF/ANSI Standard 61 for use with drinking water. All are full port, so they do not restrict flow.
Valves with a lockable handle can be fixed in place using a padlock (not included).
Copper tube size is the accepted designation of the copper tubing industry, not the actual tube OD.
For technical drawings and 3-D models, click on a part number.
Pipe
Size

Copper
Tube
Size

For
Tube
OD
For
Copper
Tube Type

Max.


Pressure

Max.


Steam
Pressure
Temperature


Range,




°F

Vacuum


Rating,




in.

of Hg

End-to-End




Lg.

For

Max.


Shackle


Dia.

For
Use
With
Each

Bronze Body

Press Connect Female × Press Connect

Female—

Standard Handle

__
1
1

1/8

"
K, M, L
200 psi @ 250° F
200 psi @ 250° F
0° to 250°
29.2
3

7/8

"
__
Water, Air, Argon, Steam, Drinking Water
0000000
000000
__
1

1/2

1

5/8

"
K, M, L
200 psi @ 250° F
200 psi @ 250° F
0° to 250°
29.2
5

9/16

"
__
Water, Air, Argon, Steam, Drinking Water
0000000
000000
__
1

1/4

1

3/8

"
K, M, L
200 psi @ 250° F
200 psi @ 250° F
0° to 250°
29.2
4

5/16

"
__
Water, Air, Argon, Steam, Drinking Water
0000000
00000
__
1

1/4

1

3/8

"
K, M, L
225 psi @ 250° F
Not Rated
0° to 250°
29
6

1/4

"
__
Drinking Water
0000000
000000
__

1/2

5/8

"
K, M, L
200 psi @ 250° F
200 psi @ 250° F
0° to 250°
29.2
3

1/8

"
__
Water, Air, Argon, Steam, Drinking Water
0000000
00000
__
2
2

1/8

"
K, M, L
200 psi @ 250° F
200 psi @ 250° F
0° to 250°
29.2
6

3/8

"
__
Water, Air, Argon, Steam, Drinking Water
0000000
000000
__

3/4

7/8

"
K, M, L
200 psi @ 250° F
200 psi @ 250° F
0° to 250°
29.2
3

1/2

"
__
Water, Air, Argon, Steam, Drinking Water
0000000
00000

Threaded NPT Female × Press Connect

Female—

Lockable Handle

1/2

1/2

5/8

"
K, M, L
200 psi @ 250° F
200 psi @ 250° F
0° to 250°
29.2
2

3/4

"

1/4

"
Water, Air, Argon, Steam, Drinking Water
0000000
00000

3/4

3/4

7/8

"
K, M, L
200 psi @ 250° F
200 psi @ 250° F
0° to 250°
29.2
3

1/8

"

1/4

"
Water, Air, Argon, Steam, Drinking Water
0000000
00000
1

1
1

1/8

"
K, M, L
200 psi @ 250° F
200 psi @ 250° F
0° to 250°
29.2
3

9/16

"

1/4

"
Water, Air, Argon, Steam, Drinking Water
0000000
00000