About Safety Ratings for Electrical Testing
Carrying Cases for Fluke Multimeters

Tool Bag
Manufacturer
Model Number
Case Type
For Fluke Model Number
Each
C550
Tool Bag
27 II, 28 II, 77IV, 83V, 87V, 114, 115, 116, 117, 175, 177, 179, 233, 287, 289, 324, 355, 373, 374, 376, 381, 787, 789, 1577, 1587, 3000 FC, T5-600, T5-1000
0000000
0000000
Fluke Probe Tips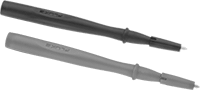 Adapt Fluke test leads to perform electrical tests in tight spaces. Attach these tips to test leads that have 4 mm banana plugs.
Manufacturer
Model
Number
For Fluke
Model
Number
Test
End
Connection
End
AC
Voltage
DC
Voltage

Current,


A
Safety
Rating
Color
Material
Insulation
Material
Pair
TP1
83V, 87V, 175, 177, 179, 373, 374, 376, 381, 787, 789, T+PRO, T5-1000, T5-600
Needle Tip
Banana Jack
1,000
1,000
10
CAT II, 1,000V
Black, Red
Stainless Steel
Polypropylene Plastic
0000000
000000
Fluke Test Lead Kits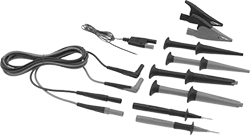 These kits include a set of red and black Fluke test leads with a variety of interchangeable tips.
The connection end on the test leads is a 4 mm banana plug, which is the standard for connecting to a multimeter.
Manufacturer
Model Number
For Fluke
Model
Number
AC
Voltage
DC
Voltage

Current,


A
Safety
Rating
Includes
Cord


Lg.

Color
Each
TL220
27 II, 28 II, 83V, 87V, 114, 115, 116, 117, 123, 175, 177, 179, 233, 287, 289, 373, 374, 787, 789
1,000
1,000
10
CAT II, 1,000V
Two Cords with Sheathed Straight Banana Plug and Sheathed Right-Angle Banana Plug, Two Needle Tips, Two Insulated Plunger Style Alligator Clips
59"
Black, Red
0000000
0000000