Emergency-Light

Conversion Kits for Fluorescent Lights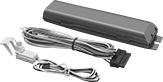 Connect the battery pack to your existing fluorescent light to convert it into an emergency backup light. They include a test switch to check that the bulbs and battery are working properly.
Kits that cannot be sold to the regions listed are resitricted by local energy efficiency requirements.
For
Use
With

Lg.

Wd.

Ht.

Voltage

Brightness,


Lumens
Run


Time,




hrs.

Mounting
Hardware
Included

No.


of

Dia.

Cannot
Be
Sold To
Each

For CFL and Fluorescent Bulbs

One 4-Pin Twin-Tube CFL Bulb
One T8 Fluorescent Bulb (2 ft. to 4 ft.)
One T8 U-Shaped Fluorescent Bulb
One T9 Circline Fluorescent Bulb
One T12 Fluorescent Bulb (2 ft. to 4 ft.)
One T12 U-Shaped Fluorescent Bulb
9

1/2

"
2

1/2

"
1

1/2

"
120V AC, 208V AC, 240V AC, 277V AC
500
1.5
No
2

5/16

"
CA, OR
0000000
0000000
One T8 Fluorescent Bulb (5 ft.)
One 4-Pin Twin-Tube CFL Bulb
One 4-Pin Quad-Tube CFL Bulb
One T5 Fluorescent Bulb (2 ft. to 4 ft.)
One T5/HO Fluorescent Bulb (2 ft. to 4 ft.)
One or Two T8 Fluorescent Bulbs (2 ft. to 4 ft.)
One or Two T8 U-Shaped Fluorescent Bulbs
One T9 Circline Fluorescent Bulb
One or Two T12 Fluorescent Bulbs (2 ft. to 4 ft.)
One T12 Fluorescent Bulb (5 ft. to 8 ft.)
One T12/HO Fluorescent Bulb (2 ft. to 8 ft.)
One T12/VHO Fluorescent Bulb (2 ft. to 8 ft.)
One T12 U-Shaped Fluorescent Bulb
9

3/8

"
2

1/4

"
1

1/4

"
120V AC, 208V AC, 240V AC, 277V AC
600
1.5
No
2

5/16

"
CA, OR
0000000
000000
One 4-Pin Twin-Tube CFL Bulb
One or Two 4-Pin Quad-Tube CFL Bulbs
One T5 Fluorescent Bulb (2 ft. to 4 ft.)
One T5/HO Fluorescent Bulb (2 ft. to 4 ft.)
One or Two T8 Fluorescent Bulbs (2 ft. to 4 ft.)
One or Two T8 Fluorescent Bulbs (5 ft. to 8 ft.)
One or Two T8 U-Shaped Fluorescent Bulbs
One T9 Circline Fluorescent Bulb
One or Two T12 Fluorescent Bulbs (2 ft. to 4 ft.)
One or Two T12 Fluorescent Bulbs (5 ft. to 8 ft.)
One T12/HO Fluorescent Bulb (2 ft. to 8 ft.)
One T12/VHO Fluorescent Bulb (2 ft. to 8 ft.)
One or Two T12 U-Shaped Fluorescent Bulbs
13

3/8

"
2

1/4

"
1

1/4

"
120V AC, 208V AC, 240V AC, 277V AC
1,400
1.5
No
2

5/16

"
__
0000000
000000