Foaming Agents for Plastic Molding Machines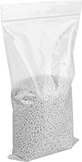 Commonly used in molding applications such as injection molding and extrusion, these foaming agents reduce weight, warpage, and sinks in finished parts. Mix them into resin as 0.5-1.5% of the total mixture—by decreasing the amount of resin needed to make a part, they help reduce costs. They also lower the melt viscosity of resin so that it can be processed at low temperatures, which reduces cooling times, cycle times, and the risk of heat degradation. These foaming agents are compatible with most plastic and rubber resins. All are FDA compliant for direct contact with food.
Agents with a 310° F or 325° F activation temperature are for use with low-melt-temperature resins such as polyolefins, polystyrenes, and thermoplastic elastomers. Agents with a 400° F activation temperature are for use with high-melt-temperature resins such as polycarbonates and polyamides.
Microfine agents produce smaller bubbles and a tighter cell structure than other foaming agents. They improve the appearance of your final product and keep its mechanical properties consistent throughout. They're often used to create parts that have thin walls.
Fine agents produce more gas than microfine agents. Use them to ensure uniform foaming when molding bigger parts.
Activation


Temperature,




°F

Melting


Temperature,




°F

Gas
Evolution
Color
Container
Type
Specifications
Met
Each

Microfine

325°
250°
30 cc/g and higher
White
Cardboard Box
FDA Compliant 21 CFR 174.5
0000000
0000000
325°
250°
65 cc/g and higher
White
Cardboard Box
FDA Compliant 21 CFR 174.5
0000000
000000
400°
350°
30 cc/g and higher
Off-White
Cardboard Box
FDA Compliant 21 CFR 174.5
0000000
000000

Fine

310°
310°
95 cc/g and higher
White
Cardboard Box
FDA Compliant 21 CFR 174.5
0000000
000000