About Carbon
Steel,

Alloy

Steel,

Spring

Steel,

and Cast Iron
Low-Carbon

Steel Rectangular Tubes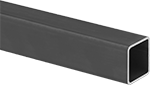 Also known as mild steel, low-carbon steel is easy to machine, form, and weld. It's widely fabricated into parts that don't require high strength, such as fixture clamps, mounting plates, and spacers. This material can be surface hardened with heat treating.
For technical drawings and 3-D models, click on a part number.

Certificates with a traceable lot number are available for these products. Download certificates from ORDER HISTORY after your order ships.
Yield

Strength:

See table

Hardness:

Not Rated
Heat

Treatable:

Yes

Max.

Hardness After Heat

Treatment:

Not Rated
Specifications

Met:

See table
Ht.

Ht.


Tolerance

Wd.

Wd.


Tolerance

Ht.

Wd.

Yield


Strength,


psi

Specifications
Met
Straightness
Tolerance

1 ft.




Lg.

3 ft.




Lg.

6 ft.




Lg.

0.065"

Wall

Thick.

(-0.007" to 0.007" Tolerance)

1/2

"
-0.03" to 0.03"

1/2

"
-0.03" to 0.03"
0.37"
0.37"
32,000
ASTM A513

1/16

" per 3 ft.
00000000

1/2

"
-0.008" to 0.008"
1

1/2

"
-0.008" to 0.008"
0.37"
1.37"
32,000
ASTM A513 Type 1

1/16

" per 3 ft.
0000000

3/4

"
-0.03" to 0.03"

3/4

"
-0.03" to 0.03"
0.62"
0.62"
32,000
ASTM A513

1/16

" per 3 ft.
00000000
1"
-0.03" to 0.03"
1"
-0.03" to 0.03"
0.87"
0.87"
32,000
ASTM A513

1/16

" per 3 ft.
00000000
1

1/4

"
-0.03" to 0.03"
1

1/4

"
-0.03" to 0.03"
1.12"
1.12"
32,000
ASTM A513

1/16

" per 3 ft.
00000000
1

1/2

"
-0.006" to 0.006"
1

1/2

"
-0.006" to 0.006"
1.37"
1.37"
32,000
ASTM A513 Type 1

1/16

" per 3 ft.
0000000

0.083"

Wall

Thick.

(-0.008" to 0.008" Tolerance)

3/4

"
-0.03" to 0.03"

3/4

"
-0.03" to 0.03"
0.584"
0.584"
32,000
ASTM A513

1/16

" per 3 ft.
00000000
1"
-0.03" to 0.03"
1"
-0.03" to 0.03"
0.834"
0.834"
32,000
ASTM A513

1/16

" per 3 ft.
00000000
1

1/2

"
-0.03" to 0.03"
1

1/2

"
-0.03" to 0.03"
1.334"
1.334"
32,000
ASTM A513

1/16

" per 3 ft.
00000000
2"
-0.03" to 0.03"
2"
-0.03" to 0.03"
1.834"
1.834"
32,000
ASTM A513

1/16

" per 3 ft.
00000000

0.12"

Wall

Thick.

(-0.012" to 0.012" Tolerance)

1"
-0.03" to 0.03"
1"
-0.03" to 0.03"
0.76"
0.76"
46,000
ASTM A500

1/16

" per 3 ft.
00000000
1

1/2

"
-0.03" to 0.03"
1

1/2

"
-0.03" to 0.03"
1.26"
1.26"
32,000
ASTM A513

1/16

" per 3 ft.
00000000
1

1/2

"
-0.01" to 0.01"
2

1/2

"
-0.01" to 0.01"
1.26"
2.26"
46,000
ASTM A513 Type 1

1/16

" per 3 ft.
0000000
2"
-0.03" to 0.03"
2"
-0.03" to 0.03"
1.76"
1.76"
46,000
ASTM A500

1/16

" per 3 ft.
00000000

1/8"

Wall

Thick.

(-0.013" to 0.013" Tolerance)

2

1/2

"
-0.03" to 0.03"
2

1/2

"
-0.03" to 0.03"
2

1/4

"
2

1/4

"
46,000
ASTM A500

1/16

" per 3 ft.
00000000
3"
-0.03" to 0.03"
3"
-0.03" to 0.03"
2

3/4

"
2

3/4

"
46,000
ASTM A500

1/16

" per 3 ft.
00000000
3

1/2

"
-0.03" to 0.03"
3

1/2

"
-0.03" to 0.03"
3

1/4

"
3

1/4

"
46,000
ASTM A500

1/16

" per 3 ft.
00000000
4"
-0.03" to 0.03"
4"
-0.03" to 0.03"
3

3/4

"
3

3/4

"
46,000
ASTM A500

1/16

" per 3 ft.
00000000

0.188"

Wall

Thick.

(-0.019" to 0.019" Tolerance)

2"
-0.03" to 0.03"
2"
-0.03" to 0.03"
1.624"
1.624"
46,000
ASTM A500

1/16

" per 3 ft.
00000000
3"
-0.03" to 0.03"
3"
-0.03" to 0.03"
2.624"
2.624"
46,000
ASTM A500

1/16

" per 3 ft.
00000000
4"
-0.03" to 0.03"
4"
-0.03" to 0.03"
3.624"
3.624"
46,000
ASTM A500

1/16

" per 3 ft.
00000000

1/4"

Wall

Thick.

(-0.025" to 0.025" Tolerance)

2"
-0.03" to 0.03"
2"
-0.03" to 0.03"
1

1/2

"
1

1/2

"
46,000
ASTM A500

1/16

" per 3 ft.
00000000
3"
-0.03" to 0.03"
3"
-0.03" to 0.03"
2

1/2

"
2

1/2

"
46,000
ASTM A500

1/16

" per 3 ft.
00000000
4"
-0.03" to 0.03"
4"
-0.03" to 0.03"
3

1/2

"
3

1/2

"
46,000
ASTM A500

1/16

" per 3 ft.
00000000
6"
-0.06" to 0.06"
6"
-0.06" to 0.06"
5

1/2

"
5

1/2

"
46,000
ASTM A500

1/16

" per 3 ft.
00000000
Yield

Strength:

34,

000 psi

Hardness:

Rockwell B65

(Medium)

Heat

Treatable:

Yes

Max.

Hardness After Heat

Treatment:

Not Rated
Ht.

Ht.

Tolerance

Wd.

Wd.

Tolerance

Ht.

Wd.

1 ft.




Lg.

3 ft.




Lg.

6 ft.




Lg.

1 mm

Wall

Thick.

(-0.15 to 0.15 mm Tolerance)

12
-0.2 to 0.2
12
-0.2 to 0.2
10
10
0000000

2 mm

Wall

Thick.

(-0.1 to 0.1 mm Tolerance)

25
-0.3 to 0.3
50
-0.3 to 0.3
21
46
0000000
25
-0.25 to 0.25
25
-0.25 to 0.25
21
21
0000000
40
-0.3 to 0.3
40
-0.3 to 0.3
36
36
0000000
55
-0.35 to 0.35
55
-0.35 to 0.35
51
51
0000000

3 mm

Wall

Thick.

(-0.1 to 0.1 mm Tolerance)

100
-0.65 to 0.65
100
-0.65 to 0.65
94
94
0000000