European Milk Bottle Fuses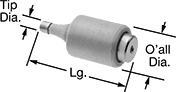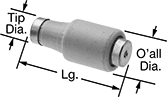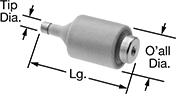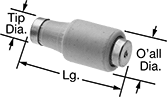 Also known as diazed or Type D fuses, these fuses can be used with equipment made in Europe.
Breakthrough current, labeled on the fuse as IR, is the maximum current that a fuse can safely stop in the event of a short circuit.
Fuses with a blown fuse indicator have a visual pin that pops out.
For technical drawings and 3-D models, click on a part number.
Current, A

Voltage

Breakthrough
Current

Lg.

Dia.

Tip


Dia.,


mm
Protection
Type

No.


of
Elements
Blown
Fuse
Indicator

1-4

5-Up

Type gL

2
500V AC
100,000 A @ 500 V AC
50
21.5
6
Fast Acting
1
No
0000000
000000
000000
4
500V AC
100,000 A @ 500 V AC
50
21.5
6
Fast Acting
1
No
0000000
00000
00000
6
500V AC
100,000 A @ 500 V AC
50
21.5
6
Fast Acting
1
No
0000000
00000
00000
10
500V AC
100,000 A @ 500 V AC
50
21.5
8
Fast Acting
1
No
0000000
00000
00000
16
500V AC
100,000 A @ 500 V AC
50
21.5
10
Fast Acting
1
No
0000000
00000
00000
20
500V AC
100,000 A @ 500 V AC
50
21.5
12
Fast Acting
1
No
0000000
00000
00000
25
500V AC
100,000 A @ 500 V AC
50
21.5
14
Fast Acting
1
No
0000000
00000
00000
35
500V AC
100,000 A @ 500 V AC
50
27
16
Fast Acting
1
No
0000000
00000
00000
50
500V AC
100,000 A @ 500 V AC
50
27
18
Fast Acting
1
No
0000000
00000
00000
63
500V AC
100,000 A @ 500 V AC
50
27
20
Fast Acting
1
No
0000000
00000
00000
2
500V AC
75,000 A @ 500 V AC
50
21.5
6
Fast Acting
1
Yes
0000000
0000
0000
4
500V AC
75,000 A @ 500 V AC
50
21.5
6
Fast Acting
1
Yes
0000000
0000
0000
6
500V AC
75,000 A @ 500 V AC
50
21.5
6
Fast Acting
1
Yes
0000000
0000
0000
10
500V AC
75,000 A @ 500 V AC
50
21.5
8
Fast Acting
1
Yes
0000000
0000
0000
16
500V AC
75,000 A @ 500 V AC
50
21.5
10
Fast Acting
1
Yes
0000000
0000
0000
20
500V AC
75,000 A @ 500 V AC
50
21.5
12
Fast Acting
1
Yes
0000000
0000
0000
25
500V AC
75,000 A @ 500 V AC
50
21.5
14
Fast Acting
1
Yes
0000000
0000
0000
35
500V AC
75,000 A @ 500 V AC
50
27
16
Fast Acting
1
Yes
0000000
00000
0000
50
500V AC
75,000 A @ 500 V AC
50
27
18
Fast Acting
1
Yes
0000000
00000
0000
63
500V AC
75,000 A @ 500 V AC
50
27
20
Fast Acting
1
Yes
0000000
00000
0000