About Flowmeters and Totalizers
Flowmeters measure the rate of flow for a liquid or a gas. Totalizers measure the cumulative flow volume. Flowmeter/totalizers display both the flow rate and the cumulative flow volume.
Pipe-Mount

Flowmeters for Water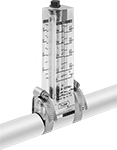 Install these flowmeters without disassembling your pipeline. Drill a hole in an existing run of PVC pipe and secure the flowmeter with the included clamps. They measure the flow rate of water in your system. For use with Schedule 40/Schedule 80 PVC pipe, they have a dual scale that shows flow rate in gallons per minute for each schedule.
For technical drawings and 3-D models, click on a part number.
Pipe
Size

For
Pipe
Schedule
Overall


Ht.

Schedule 40

Schedule 80

Accuracy

Max.


Pressure

Temp.




Range,




°F

Seal
Material
Mounting
Orientation
Each

Acrylic Plastic Body with 316 Stainless Steel Fittings

Gallons per Minute

1

40, 80

7"
5 to 35
4 to 26
±5%
75 psi @ 70° F
33° to 190°
Neoprene Rubber
Vertical
0000000
0000000
1

1/4

40, 80

6"
9 to 50
8 to 40
±5%
75 psi @ 70° F
33° to 190°
Neoprene Rubber
Vertical
000000
000000
1

1/2

40, 80

7

1/2

"
10 to 70
10 to 60
±5%
75 psi @ 70° F
33° to 190°
Neoprene Rubber
Vertical
0000000
000000
2

40, 80

7

1/2

"
20 to 120
18 to 100
±5%
75 psi @ 70° F
33° to 190°
Neoprene Rubber
Vertical
0000000
000000
3

40, 80

6"
45 to 240
40 to 215
±10%
75 psi @ 70° F
33° to 190°
Neoprene Rubber
Vertical
0000000
000000
4

40, 80

6"
75 to 420
70 to 375
±10%
75 psi @ 70° F
33° to 190°
Neoprene Rubber
Vertical
000000
000000