Panel-Mount

Humidity Controllers
The sensor monitors relative humidity and triggers the controller to turn equipment on or off. Sensor and controller are sold separately.
Controller is SPDT (single pole, double throw). It can be set to turn one circuit from off to on (normally open) or from on to off (normally closed). Set the actuation point with the keypad.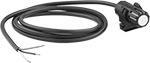 Range
Accuracy

Max.

Operating


Temp.,

°F

Wire Connection
Type
Wire
Lead


Lg.

Cable


Lg.,




ft.

Ht.

Wd.

Housing
Material
Fasteners
Included
Each
20% to 90%
±5%
122°
Wire Leads

1/16

"
4
2

3/8

"

31/32

"
Plastic
No
00000000
000000

Range
Accuracy

Max.


Operating


Temp.,

°F

Ht.

Wd.

Actuation
Points
Circuits
Controlled
Wire
Connection
Type
Voltage

Ht.

Wd.

Dp.

Housing
Material
Each
10% to 100%
±1%
158°
1

9/64

"
2

13/16

"
2
1
Screw Terminals
120V AC
1

11/32

"
3"
2

3/8

"
Plastic
00000000
0000000
Enclosure Humidistats

Nonadjustable

Adjustable
Reduce the humidity in your enclosure to prevent condensation that can cause corrosion and short circuits. These humidistats switch your heater on when the enclosure reaches the relative humidity setting. Once the humidity falls by 5%, the heater switches off. To install, clip humidistats to a DIN rail.
Nonadjustable humidistats work for most applications. They keep humidity below 65%, which is when condensation is most likely to form. Since they aren't adjustable, the humidity setting can't be tampered with or accidentally changed. For critical components, use adjustable humidistats to set the relative humidity you need in your enclosure. Use a lower humidity setting in damp environments and places with frequent temperature changes. Condensation is more likely in these situations.
CSA Certified, CSA-US Certified, CE Marked, and VDE Certified, these humidistats meet American, Canadian, and European safety standards. They also meet UL 94 V-0, so if they catch fire, they self-extinguish within 10 seconds and won't spread the fire by dripping.
Setting
Difference
Tolerance
Voltage

Current,


A
For DIN
Rail


Height,

mm
Height
Width
Depth
Environmental
Rating
Specifications
Met
Each

Nonadjustable

65%
5%
±1%
120V AC
16
35
2

1/2

"
1

5/8

"
1

1/2

"
IP20

CE Marked; VDE Certified; CSA Certified; CSA-US Certified; UL 94 V-0
0000000
000000
65%
5%
±1%
240V AC
16
35
2

1/2

"
1

5/8

"
1

1/2

"
IP20

CE Marked; VDE Certified; CSA Certified; CSA-US Certified; UL 94 V-0
0000000
00000

Adjustable

40% to 90%
5%
±1%
120V AC
16
35
2

1/2

"
1

5/8

"
1

1/2

"
IP20

CE Marked; VDE Certified; CSA Certified; CSA-US Certified; UL 94 V-0
0000000
00000
40% to 90%
5%
±1%
240V AC
16
35
2

1/2

"
1

5/8

"
1

1/2

"
IP20

CE Marked; VDE Certified; CSA Certified; CSA-US Certified; UL 94 V-0
0000000
00000