Airflow/Temperature

Meters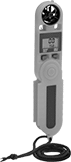 These versatile meters display airflow and one other measurement simultaneously. They can show airflow measurements on multiple scales, such as fpm, mph, and knots. Small enough to fit in your pocket, these meters extend to 9" when unfolded.
Measures
Airflow
Temperature
Range
Relative
Humidity
Dew


Point,




°F

Ht.

Wd.

Dp.

Batteries
Included
Each

Fan Meter

Airflow, Temperature, Relative Humidity, Dew Point
100-5,500 fpm
1.1-60 mph
1-50 kn
0.5-20 m/sec.
1.8-100 km/hr.
0° to 122° F/-18° to 50° C
10-95%
32° to 122°
5

1/4

"
2

3/4

"

3/4

"
Yes
0000000
0000000
Heat Stress Monitors
Measure temperature, humidity, and radiant heat in your work area to keep your team safe from heat-related hazards. These monitors help you avoid dangerous conditions and comply with OSHA standards for a safe work environment. They use a variety of measurements from your surroundings to calculate the heat stress index and the wet bulb globe temperature (WBGT), which tell you how hot it feels. Set a maximum wet bulb globe temperature, and an alarm will go off when heat reaches the safety limit.
These monitors have two sensors. One measures temperature, humidity, dew point, and wet globe temperature. The other measures black globe temperature, which is the effect of direct solar radiation on an exposed surface. Carry monitors with you to measure different areas, or mount to your tripod to measure conditions over time.
To maintain their accuracy, monitors should be calibrated once a year. You can calibrate the monitor yourself using humidity standards. These standards contain a known humidity, so you can adjust your monitor until it reads the humidity correctly.
Monitors that come with a calibration certificate traceable to NIST have passed a test for accuracy.
Power these monitors with the included batteries, or add a power adapter to plug them in.
Add a memory card to store your readings and export them to a computer.