Remote-Reading

Tension Force Gauges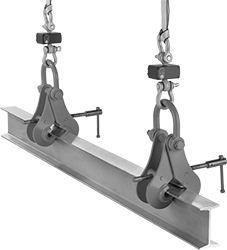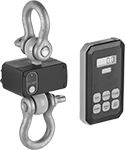 Gauge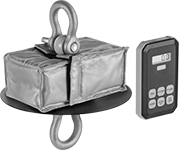 Gauge with Heat Shield Disc and Jacket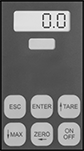 Receiver Display
Safely view your tension force measurements on a handheld receiver up to 450 ft. away when moving bulk material with cranes and hoists. These gauges are also called dynamometers and crane scales. Made of steel, they're durable enough to briefly hold heavy loads up to 500% of their capacity. But, they will no longer take measurements if the load exceeds 200%. Warning lights will flash first when your load exceeds capacity, then again when it reaches 133% capacity. To prevent overloads, the peak-hold setting displays the highest measurement. The tare function lets you reset the gauge to zero after attaching a container to weigh only the material inside. These gauges include a calibration certificate traceable to NIST that states they've passed a test for accuracy. They also meet IEC and ASME safety and fatigue standards.
Because their indicators and load cells are IP rated, these gauges stand up to washdowns and brief submersion common to food and chemical plants. They're also safe to use outdoors since they're NEMA rated to seal out weather.
These gauges come with two shackles that work with other lifting fittings, such as clevis hooks. The included batteries power their load cells for up to 2,000 hours.
Gauges with a heat shield disc and jacket hold up in foundries and other hot environments because their load cells take longer to reach the maximum temperature than other gauges. An internal thermometer tells you the load cell temperature on the receiver.
English
Metric
Newtons
English
Metric
Newtons
English
Metric
Newtons

Ht.

Wd.

Dp.

Opening


Ht.

Opening


Wd.

Load
Point
Remote
Receiver
Each

Gauges

2,000 lbs.
900 kg
8,800 N
±2 lbs.
±1 kg
±9 N
1 lbs.
0.5 kg
5 N
4

7/8

"
4"
3

1/4

"
1

3/8

"
1"
-15° to 175°
0° to 155°
0000000
000000000
4,000 lbs.
1,800 kg
17,700 N
±4 lbs.
±2 kg
±18 N
2 lbs.
1 kg
9 N
4

7/8

"
4"
3

1/4

"
1

3/8

"
1"
-15° to 175°
0° to 155°
0000000
00000000
10,000 lbs.
4,500 kg
44,400 N
±10 lbs.
±5 kg
±45 N
5 lbs.
2 kg
23 N
5

3/8

"
4"
3

1/4

"
2

3/8

"
1

3/4

"
-15° to 175°
0° to 155°
0000000
00000000
20,000 lbs.
9,000 kg
88,900 N
±20 lbs.
±9 kg
±89 N
10 lbs.
5 kg
45 N
7

3/4

"
4"
4

5/8

"
3

3/4

"
2

5/8

"
-15° to 175°
0° to 155°
0000000
00000000
50,000 lbs.
22,600 kg
222,400 N
±50 lbs.
±23 kg
±222 N
10 lbs.
5 kg
50 N
9

3/8

"
4"
4

5/8

"
5

3/4

"
3

55/64

"
-15° to 175°
0° to 155°
0000000
00000000
110,000 lbs.
49,800 kg
489,300 N
±110 lbs.
±50 kg
±489 N
20 lbs.
10 kg
100 N
12

5/8

"
4"
5

1/4

"
7

3/4

"
5

7/16

"
-15° to 175°
0° to 155°
0000000
00000000

Gauges with Heat Shield Disc and Jacket

10,000 lbs.
4,500 kg
44,400 N
±10 lbs.
±5 kg
±45 N
5 lbs.
2 kg
23 N
5

3/8

"
4"
3

1/4

"
2

3/8

"
1

3/4

"
-15° to 175°
0° to 155°
0000000
00000000
20,000 lbs.
9,000 kg
88,900 N
±20 lbs.
±9 kg
±89 N
10 lbs.
5 kg
45 N
7

3/4

"
4"
4

5/8

"
3

3/4

"
2

5/8

"
-15° to 175°
0° to 155°
0000000
00000000