Data-Recording

Torque Gauges
Use these gauges with changeable sensors and square-drive sockets (sold separately) to display, collect, and download torque readings. They display torque as it's measured and the maximum torque reached. Gauges can also be used to convert any hand-turned square drive tool into a precise torque-measuring tool.
Note: The accuracy ratings do not apply to the lower 10% of the torque range.
Wrench-attachable sensors fit between your wrench and socket. Use with hand tools only.
Hand-turned sensors don't require a tool; place into your socket and turn them with your hand.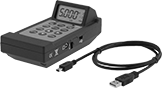 Features

Lg.

Wd.

Ht.

Data Log


Cap.

Batteries
Included
Includes
Container Type
Each

in.-oz.,

in.-lbs.,

ft.-lbs.,

Nm,

cNm,

m-kg,

cm.-kg

Torque Measurement Memory, Programmable Torque Settings, Maximum Torque Display, Keypad, Headphone Jack, Audible Alarm
6"
3"
2

1/2

"
3,500
Yes
3-ft Long USB Cable
Plastic Case
0000000
000000000
Wrench-Attachable Sensors with Calibration Certificate with Test Data Traceable to NIST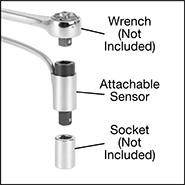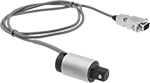 Square Drive Size

(Gender)

Torque Range

Torque-Measuring


Direction
Clockwise
Counterclockwise
Cord


Lg.,

ft.

Each

in.-oz.,

in.-lbs.,

ft.-lbs.,

Nm,

cNm,

m-kg,

cm-kg

1/4

" (Female) ×

1/4

" (Male)
80 to 800 in.-oz.
5 to 50 in.-lbs.
0.417 to 4.17 ft.-lbs.
0.565 to 5.65 Nm
56.5 to 565 cNm
0.058 to 0.576 m-kg
5.76 to 57.6 cm-kg
Clockwise and Counterclockwise
±1%
±1%
4
0000000
0000000

1/4

" (Female) ×

1/4

" (Male)
320 to 3,200 in.-oz.
20 to 200 in.-lbs.
1.67 to 16.7 ft.-lbs.
2.26 to 22.6 Nm
226 to 2,260 cNm
0.23 to 2.3 m-kg
23 to 230 cm-kg
Clockwise and Counterclockwise
±1%
±1%
4
0000000
000000

3/8

" (Female) ×

3/8

" (Male)
120 to 1,200 in.-lbs.
10 to 100 ft.-lbs.
13.6 to 136 Nm
1,356 to 13,560 cNm
1.38 to 13.8 m-kg
138 to 1,383 cm-kg
Clockwise and Counterclockwise
±1%
±1%
4
0000000
000000

1/2

" (Female) ×

1/2

" (Male)
300 to 3,000 in.-lbs.
25 to 250 ft.-lbs.
33.9 to 339 Nm
3,390 to 33,900 cNm
3.46 to 34.6 m-kg
346 to 3,456 cm-kg
Clockwise and Counterclockwise
±1%
±1%
4
0000000
000000

3/4

" (Female) ×

3/4

" (Male)
720 to 7,200 in.-lbs.
60 to 600 ft.-lbs.
81.3 to 813 Nm
8,135 to 81,350 cNm
8.3 to 83 m-kg
830 to 8,295 cm-kg
Clockwise and Counterclockwise
±1%
±1%
8
0000000
000000
Hand-Turned Sensors with Calibration Certificate with Test Data Traceable to NIST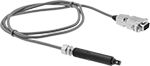 Square Drive
Size

(Gender)

Torque Range

Torque-Measuring

Direction
Clockwise
Counterclockwise
Cord


Lg.,

ft.

Each

in.-oz.,

in.-lbs.,

ft.-lbs.,

Nm,

cNm,

m-kg,

cm-kg

1/4

" (Male)
2 to 20 in.-oz.
0.125 to 1.25 in.-lbs.
0.01 to 0.104 ft.-lbs.
0.014 to 0.141 Nm
1.41 to 14.1 cNm
0.001 to 0.014 m-kg
0.144 to 1.44 cm-kg
Clockwise and Counterclockwise
±2%
±2%
4
0000000
0000000

1/4

" (Male)
16 to 160 in.-oz.
1 to 10 in.-lbs.
0.083 to 0.833 ft.-lbs.
0.113 to 1.13 Nm
11.3 to 113 cNm
0.012 to 0.115 m-kg
1.15 to 11.5 cm-kg
Clockwise and Counterclockwise
±2%
±2%
4
0000000
000000