Durable
Glass-Filled

Wear-

and

Chemical-Resistant

PEEK

Color:

Beige
Temperature

Range:

32° to 480° F

Tensile

Strength:

14,

000 psi

(Excellent)

Impact

Strength:

0.8-1.

8

ft.

-

lbs./in.

(Poor)

Hardness:

Rockwell R126

(Hard)

For Use

Outdoors:

No
Specifications

Met:

ASTM

D6262,

UL 94 V-0
A glass filler is added to these PEEK rods for increased durability over standard PEEK in high-stress structural applications. PEEK is chemical resistant and stands up to wear caused by rubbing in repetitive processes, as well as by abrasion. It is sometimes used as a lightweight substitute for metal.
For technical drawings and 3-D models, click on a part number.
High-Temperature

3D Printer Filaments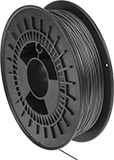 Parts made with these filaments remain strong and rigid in temperatures that would soften most plastics. They are a lightweight alternative to machined metal parts. Use with a fused filament fabrication (FFF) 3D printer to make parts that will be used near ovens, engines, and other hot machinery. These filaments require an all-metal extruder to reach the recommended printing temperatures. Print parts onto a heated bed to keep them from warping as they cool.
Fiberglass-filled PEEK filaments produce parts that are stronger, shrink less, and are less likely to warp than unfilled PEEK. They also take nearly twice as much heat without deforming. To reach their full heat resistance and strength, parts printed with fiberglass-filled PEEK must be annealed.
Tensile strength is the best measure of a filament's overall strength. Similar to the stress applied on a rope during a game of tug-of-war, it's the amount of pulling force a material can handle before breaking. A higher rating means a stronger filament. A tensile strength of 5,000 psi and above is considered good; 12,000 psi and above is excellent.
Maximum exposure temperature is the point at which a printed part will begin to deform. Above this temperature, your printed parts will start to lose structural integrity.
Annealing is the process of heating prints to a specific annealing temperature and then slowly allowing them to cool. This makes the finished print harder, stronger, and more heat tolerant. Maximum temperature after annealing replaces the maximum exposure temperature once this process has been completed.
Dia.,


mm
Printing


Temp.

For Printer
Bed


Temp.

Tensile
Strength

Max.


Exposure


Temp.

Max.


Annealing


Temp.

Max.

Temp.


After
Annealing
For

Min.


Nozzle


Dia.,

mm

Dia.,


mm

Dp.,


mm

Wt.,


g
Color
Each

Fiberglass-Filled

PEEK Plastic

1.75
375° to 410° C

707° to 770° F

130° to 145° C

266° to 293° F

13,050 psi (Excellent)
260° C
500° F
140° C

284° F

315° C

599° F

0.4
195
40
500
Opaque Beige
0000000
0000000