Super-Flexible

Corning® Willow® Glass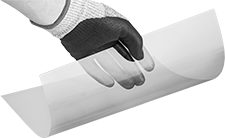 Color:

Clear
Maximum

Temperature:

1,385° F

Fabrication:

Fusion Drawn
This glass bends like plastic but is eight times harder—it's harder than tooth enamel but softer than quartz. As thin as a piece of paper, this lightweight glass can be used as a laminate for surfaces such as wood, metal, or tough plastic. It's very smooth and flexible, though it only bends one way and cannot bend three-dimensionally.
Optically clear, this glass transmits over 90% of visible light. Because it doesn't have pores, it can be used as a barrier to protect sensitive materials against moisture, oxygen, and stains. Changes in temperature won't affect the size of this glass. It's easy to sanitize, as it can withstand commercial cleaners, such as bleach and ammonia. The scratch resistance of this glass is better than that of metal, plastic, and soda-lime glass.
For technical drawings and 3-D models, click on a part number.