About
Cut-Resistant

Gloves
Coated Work Gloves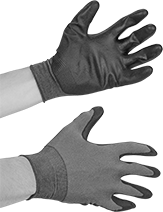 A
The coating on these gloves provides extra protection without limiting dexterity. It also provides a secure grip.
Nylon gloves are form fitting and offer good dexterity.
Palm-coated gloves have an uncoated back side that makes the gloves more comfortable and breathable. Textured gloves provide a better grip than smooth gloves.
Polyurethane-coated gloves are thin and lightweight. They're good for assembly work, small parts handling, and other jobs where a sensitive touch and precise handling are essential.
Use gloves with knit cuffs for a secure fit.
Vibration-Damping

Open-Finger

Work Gloves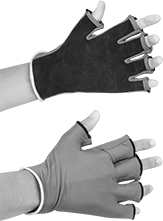 B
Minimize hand fatigue while operating rivet guns, jackhammers, and other power tools that produce high levels of vibration. These gloves cover your hands while leaving your fingertips open to grip objects. All have shock-absorbing gel padding. A stretchy spandex backing provides improved mobility.
High-Dexterity

Cut-

and

Puncture-Protection

Gloves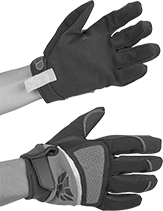 Synthetic Leather
These flexible gloves combine cut resistance with a design that conforms to your hand for improved dexterity. All have reinforced palms to reduce the risk of cuts when handling sharp and pointed objects. They meet the ANSI/ISEA 105 standard, which designates levels of cut resistance based on the force needed to cut through the material of the glove using a razor blade.
Hook and loop cuffs can be adjusted for a custom fit.