RoHS (Restriction of Hazardous Substances)

RoHS

(Restriction

of
Hazardous

Substances)
DFARS (Defense Acquisition Regulations Supplement)

DFARS

(Defense

Acquisition

Regulations

Supplement)
REACH (Registration, Evaluation, Authorization and Restriction of Chemicals)

REACH

(Registration,




Evaluation,

Authorization
and Restriction of

Chemicals)
High-Dexterity

Work Gloves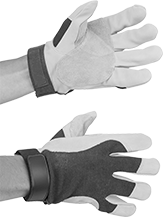 A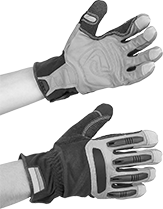 B
These flexible gloves combine abrasion resistance with a design that conforms to your hand. A stretchy spandex backing provides improved mobility.
Leather gloves are all supple and form fitting. Cowhide gloves balance durability and comfort. Sheepskin gloves are soft and have excellent dexterity.
Hook and loop cuffs can be adjusted for a custom fit. Gloves with open cuffs are more convenient to put on and take off than other gloves. Gloves with a terry cloth sweat wipe have a patch on the back of the thumb to absorb perspiration while you work.
Style B are reinforced with Kevlar threads for added durability. Knuckle guards on the back of the hand protect your fingers from impact when working in confined spaces.
Size
Glove
Size
S
7
M
8
L
9
XL
10
2XL
11
Style

Lg.

Cuff Style
Color
Features
Choose a Size

1-3

4-Up

Cowhide Leather

A
9"
Hook and Loop
Black/Gold
Spandex Backing, Reinforced Palm and Thumb
000000
000000
000000

Sheepskin Leather

B
9"
Open
Black/Gold
Spandex Backing, Reinforced Fingers, Terry Cloth Sweat Wipe, Knuckle Guards, Kevlar Threads
0000000
00000
00000