About
Cut-Resistant

Gloves
Oil-

and

Cut-Protection

Gloves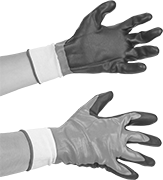 Knit Cuff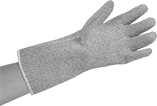 Open Cuff
Often used on machine assembly jobs where protection against oil and cuts is essential, these gloves are thin enough for precision work. They resist tearing and degradation from oil and grease. All of these gloves meet the ANSI/ISEA 105 standard, which designates levels of cut resistance based on the force needed to cut through the material of the glove using a razor blade.
Nitrile-coated gloves have a layer of rubber on the palm for added comfort.
Use gloves with knit cuffs for a secure fit.
Cut
Resistance
Texture
Coating
Coverage
Lining
Material

Lg.

Cuff
Style
Color
Specifications
Met
Clothing
Size
Pair

Nitrile-Rubber-Coated

Nitrile Rubber

ANSI Level A2
Textured
Full
Polyester/Nylon Fabric Blend
12"
Knit
Blue/Black/White
ANSI/ISEA 105
S
0000000
00000
ANSI Level A2
Textured
Full
Polyester/Nylon Fabric Blend
12"
Knit
Blue/Black/White
ANSI/ISEA 105
2XL
0000000
0000
ANSI Level A2
Textured
Full
Polyester/Nylon Fabric Blend
12"
Knit
Blue/Black/White
ANSI/ISEA 105
L
0000000
0000
ANSI Level A2
Textured
Full
Polyester/Nylon Fabric Blend
12"
Knit
Blue/Black/White
ANSI/ISEA 105
XL
0000000
0000
ANSI Level A2
Textured
Full
Polyester/Nylon Fabric Blend
12"
Knit
Blue/Black/White
ANSI/ISEA 105
S, M, L, XL, 2XL
000000
0000
ANSI Level A2
Textured
Full
Polyester/Nylon Fabric Blend
12"
Knit
Blue/Black/White
ANSI/ISEA 105
M
0000000
0000